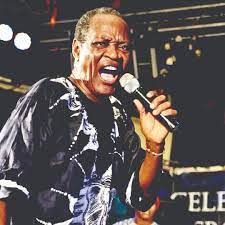 By Bode Lawal         
He is so dear to the likes of Soyinkas, Oyelanas, Faletis, Lijadu Sisters, and the rest. It becomes so because this "Baba Agba" is very unique in his Folklore.
In 1964, Uncle Jimi Solanke was given a slot on the Western Nigeria Television (WNTV), Ibadan, to be presenting a 30minute-children's programme. He was also the storyteller in the kiddies show.
In 1967, when the late James Brown, the American star and inventor of the twist dance came to Nigeria on a musical tour, Uncle Jimi also featured as an artiste, rendering his popular song then, "E je ka jo".
Jimi Solanke, a native of Isara-Remo was born on July 4, 1942. He got married to Miss Bisi Lasile, a young and dynamic broadcaster in the early 70s. They were both working at the Western Nigeria Television (WNTV), Ibadan during that time.
But their union which didn't last due to some marital issues was blessed with twin daughters. Bisi remarried, bearing Bisi Lasile-Oladimeji, no more Bisi Solanke.
Uncle Jimi who also remarried later got more prominent in the show business and broadcasting as he was invited to the set of Basorun Gaa in 1977, under the production of NTA, Ibadan.
One just needs to watch this gifted artiste sing with his baritone voice, and your soul will be lifted.
In 1982, Uncle Solanke featured in the Lijadu Sisters' Show at NTA, Ibadan, where he rendered a specially composed song for twins, "Emi A Bi 'Beji". I can nominate the song for the forthcoming American Grammys, because it's evergreen.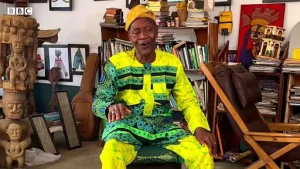 Uncle Jimi Solanke had worked with UNICEF and UNESCO as producer of some TV enlightenment programmes and documentaries. Prof. Wole Soyinka featured him in most of his plays – King Babu, Death and the King's Horseman, Kongi Harvest, and others.
Many children (including myself) who are now adults will never forget him because he made us happy through his presentations on the screen in those days. Gone are those days.
Congratulations and happy birthday sir. Many happy returns of the day in good health.