Members of the Community Development Committee (CDC), Yewa South Zone of Ogun State have promised to give Hon.  Latefat Bolanle Ajayi unflinching supports towards achieving success at the coming state assembly election.
The group made this observation on Saturday March 2, 2019 during an interactive session held at Mabelink Hotel,  Oke-Ola area of Ilaro, headquarters of Ogun West.
In his opening speech, a veteran journalist and Publisher of StarTrend Int'l magazine who coordinated the event described CDC association and its members as best materials for the administration of public affairs.
Former Chairman of the Planning Committee, Oronna Ilaro Festival commended the foresight of those who initiated the idea of establishing the community association.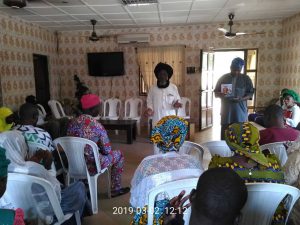 He however called on members of the group, who he described as most closer to the grassroots to use their clout throughout Yewa South local government to achieve victory for Hon.. Bolanle Ajayi.
While introducing Hon. Bolanle Ajayi to the audience,  AbuSatar as he's fondly called described Hon. Bolanle Ajayi as very humble, God-fearing, tried and tested woman that can be trusted for the position.
"Without being immodest, Hon. Bolanle Ajayi has paid her dues in the political space of Yewa and Ogun State in general; hence she deserves the support of the people of this area to achieve her dream," AbuSatar posited.
In his speech at the event, the Yewa South Zonal Chairman of CDC, Mr. Olaleye Kayode, he advised the candidate to attend and sponsor some members of the association to workshop training for community development at Shasha.
Mr. Olaleye who's also known as Ewe noted that the training will greatly assist the candidate in the area of community relations and development, adding, "at the same time it will also adds to her curriculum vitae."
The Vice–Chairman of Yewa Zone of CDC, who also doubles as Chairman, Ilaro Area of the association, Chief Shafarudeen Popoola assured Hon. Ajayi of the group's supports, saying, "All members of the association would embark on house-to-house and one community to another campaign for her victory."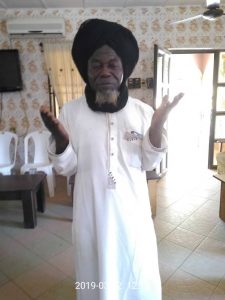 In their different comments, some members of the association described Hon. Lateefat Bolanle Ajayi as "a kind-hearted, caring, honest and reliable woman that can effectively represent the interest of Yewa South local government at the Ogun State Assembly.
Appreciating the association, Hon. Bolanle Ajayi who was represented by Mr. Segun Ogunleye and Miss Toyin Akinola, Personal Assistant to the lawmaker-to-be, respectively thanked the association for their supports and words of advice, adding that Hon. Ajayi will not disappoint them if elected as a member of the Ogun State House of Assembly.
In another developmental, Hon. Bolanle Ajayi on Sunday March 3, 2019 moved her campaign train to members of BimsTable Social Club, Ilaro, a social and elite club.
While playing host to Hon. Bolanle Ajayi who was represented by her husband, Chief Femi Ajayi, the President of the club, Alhaji Rasheed Adeyinka said that Hon. Bolanle Ajayi has been helping many people in the community before venturing into politics.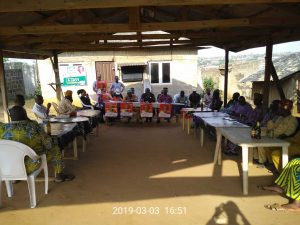 His words: "Hon.  Ajayi is a noiseless philanthropist who have been helping those who come her way,  and I believe if voted as member of the Ogun State House of Assembly her presence there is not to make money, but for the good representation of the entire people of Yewa South local government.''
Alhaji Adeyinka called on members of the club to encourage their families and members of their communities to come out en-mass on March 9, 2019 to cast their votes for Hon. Bolanle Ajayi, saying, "Come March 10, 2019 we shall all gather here again to celebrate the victory of Hon. Ajayi."
Some of the club members who spoke at the event also noted that Hon. Bola Ajayi was the best candidate and a reliable woman that can truly represents the area at the Ogun State House of Assembly.
They however promised to work hard to deliver their various areas for the candidate's victory at the polls.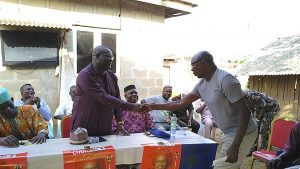 Responding, the husband of the candidate, Chief Femi Ajayi thanked members of the club for their continued support and prayers with assurance that his wife would represent them well if elected.
Hon. Bola Ajayi is a retired Head-Teacher and now a seasoned businesswoman. She is a candidate, contesting as member, representing Yewa South local government at the Ogun State House of Assembly under the party – Allied People's Movement (APM) at the coming Governorship and House of Assembly elections. She is happily married and blessed with children.