The 36 State Governors under the aegis of the Nigeria Governors' Forum (NGF), has accused the Central Bank of Nigeria (CBN) of presently pursuing what they described as a currency confiscation programme and not the currency exchange policy, adding that the apex bank did not take into consideration the increase in the size of the country's nominal Gross Domestic Product (GDP).
According to a Communique signed on Saturday, February 11, 2023 at the end of the meeting by the NGF Chairman and Governor of Sokoto State, Aminu Tambuwal, the Governors condemned the CBN over the currency redesign policy and scarcity of Naira notes as they have directed their Attorneys General to review the suit at the Supreme Court with a view to consolidating the legal reliefs pursued by States.
Rising from its 3rd meeting, the Governors said that the Federal Government and the CBN should as a matter of urgency respect the Rule of Law and listen to the voice of reason expressed by Nigerians and several other stakeholders including the Council of State.
The Governors said that the action has become imperative before the damage to the nation's economy becomes too great to fix by the next administration, warning that if the policy continues, Nigeria as a country runs the risk of a CBN-induced recession.
The statement reads in part, "We, members of the Nigeria Governors' Forum (NGF), at our meeting today discussed critical issues of national interest and resolved as follows: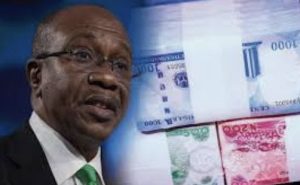 "First, we express our sympathies and support for Nigerians who are experiencing great difficulties under the current CBN Naira re-design and cash withdrawal restrictions policy. We feel your pain and we are determined to employ all legitimate channels to ease the situation.
"It has become necessary to make a distinction between the Central Bank of Nigeria (CBN) Naira redesign policy backed by Section 20 (3) of the CBN Act, 2007 and the aspirational policy of going cashless, both of which are mutually exclusive at this time.
"It is our considered view that what the CBN is at present pursuing is a currency confiscation programme, not the currency exchange policy envisaged under S20(3) of the CBN Act, 2007.
"Currency confiscation in the sense that the liquidity provided to the general public is grossly insufficient due to the restrictions placed on the amount that can be withdrawn regardless of the amount deposited."