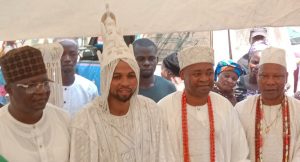 By AbuSatar Hamed
IWOYE-YEWA – Ogun State Commissioner for Local Government and Chieftaincy Affairs, Honourable Afolabi Afuape on Friday, December 4, 2020 installed and presented the Staff of Office to Oba Makinde Ololade Buhari as the Oniwoye of Iwoye in Yewa South Local Government Area of Ogun State.
The Commissioner on behalf of the State Government implored the newly installed monarch to be conscious of policies guiding his office and continue to maintain the peaceful atmosphere in the community.
In his remark, Oba Makinde Ololade Buhari thanked the Executive Governor of Ogun State, Prince Dapo Abiodun MFR, the Commissioner for Local Government and Chieftaincy Affairs, Hon Afolabi Afuape and his entourage, the Olu-in-Council, led by Ekerin of Ilaro, Chief E.A. Saanu, the Olu-Itori, Oba AbdulFatai Akamo, as well as dignitaries present at the epoch event for honouring his installation as Oniwoye of Iwoyeland.
His words, "I promise to live my life as Oniwoye of Iwoyeland to foster unity, prosperity and progress within and outside Iwoyeland.
"I pray God to help me achieve my aims towards the development of Iwoye".
While congratulating the new monarch, the Olu Ilaro & Paramount Ruler of Yewaland, Oba Kehinde Gbadewole Olugbenle admonished him to improve on the existing relationship between Ilaro and Iwoye.
His Royal Majesty who was ably represented by the Olu-in-Council, led by the Ekerin of Ilaro said, "We are here because of the importance Kabiyesi and entire people of Ilaro attached to the relationship that exists between Ilaro and Iwoye.
"On behalf of the Olu of Ilaro and Paramount Ruler of Yewaland, Oba Kehinde Olugbenle, I wish the new Oniwoye well and urged Oba Buhari to reach out to all Iwoyes both at home and in the Diaspora".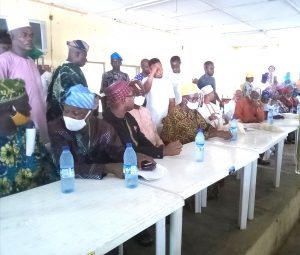 In the same vein, the Olu of Itoriland, Oba Akamo while fielding questions from journalists stated that the monarch should leave the wrangling of selection process behind him, but look above board.
"My dear new Oba should rather focus on how to bring about modern day development to Iwoye.
"Infact, his acceptance speech shows that he is up to the task, I can only pray Allah to continue upholding him", Oba Akamo stated.
Corroborating Oba Akamo's message to the new Oniwoye, the Chairman/CEO, IMPEX Group, Alhaji Ibrahim Dende Egungbohun said, "I am happy for the newly installed monarch, Oba Makinde Ololade Buhari and pray that Almighty Allah should continue to guide him such that he will be able to conveniently move Iwoye forward".
Earlier in his opening speech, the Regent of Iwoye town, Chief Adewale Adesina, fondly called Wale Saranda, commended Governor Dapo Abiodun for his unflinching support towards installing the right person as Oniwoye of Iwoyeland.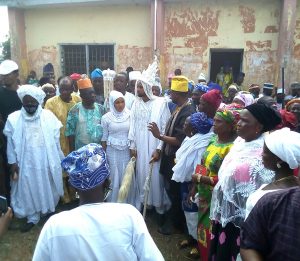 "We appreciate God for helping us to achieve this feat after ten years.
"We thanked His Excellency, Governor Dapo Abiodun for his support. He took a decision and what he has done for us has brought joy to our town.
"We have been on this for ten years and some politicians have been playing on our intelligence, but Prince Dapo Abiodun, in cooperation with the State Executive Council approved a King for us in Iwoye. We are indeed very happy for the kind gesture. May God continue to guide and protect them all".
Advising the newly crowned Oba Buhari Makinde, the Babaloja of Yewaland, Chief Adesina said, "My piece of advice to Kabiyesi is that he should do his best to unite the people.
"He should do his best to preserve and promote the culture and tradition of Iwoyeland, and also strive to turn around this town, positively.
"I want to also use this opportunity to urge the people and most especially, the youths of this town to support the new monarch and also go about their businesses without any fear or rancour."