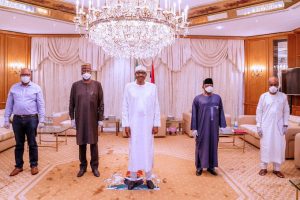 ABUJA: Vice President Yemi Osinbajo, SAN, briefed his boss, President Muhammadu Buhari Friday, 10, 2020, on the progress of the Economic Sustainability Committee which he (Buhari) asked him to chair recently.
Osinbajo stated this on his tweeter handle.
Recall, the ESC held a number of meetings and it is receiving sectoral suggestions on how to position the Nigerian economy post COVID-19.
The President also met with the Task Force on Control of COVID-19, on Friday, April 10, 2020.
President Buhari was briefed on the progress so far made to contain the dreaded pandemic.
In his speech through his tweeter handle, President Buhari thanked the committee for good work, saying, "I remain very grateful for the hardwork that they are putting into this national assignment. I have no doubt that with all these efforts, Nigeria will triumph over this pandemic."
VP Photos: Tolani Alli