US comedian, Bill Cosby has been sentenced to between three and 10 years in prison over his sexual assault conviction.
The 81-year-old was jailed after being found guilty of sexually assaulting Andrea Constand at her home in 2004.
His lawyers have already vowed to appeal the sentence.
Montgomery County Court Judge Steven O'Neill said it was "time for justice" as he handed Cosby the prison term – and also fined him $25,000.
"Mr Cosby, this has all circled back to you," he told him. "The time has come."
He quoted Ms Constand's statement to the court, in which she said Cosby took her "beautiful, young spirit and crushed it".
Cosby's lawyers asked that he be allowed to remain free on bail. But Judge O'Neill appeared incredulous over the request, and said he would not treat the celebrity any differently from others.

After being sentenced, Cosby sat and chatted with his spokesman and a lawyer, seemingly in good spirits.
Cosby, who once had a family-friendly reputation with his 1980s comedy "The Cosby Show", was the first celebrity to be convicted for sexual abuse since the start of the #MeToo movement.
In April, 2018 he was convicted of three counts of aggravated indecent assault for the drugging and sexual assault of his one-time friend Ms Constand.
More than 50 other women have accused Cosby of sexual abuse going back decades, with most complaints too old to prosecute.
A woman stifled tears as she confronted Bill Cosby in court, accusing him of sexual assault and asked: "You remember, don't you, Mr Cosby?"
The star was described as a "serial rapist" in emotionally charged testimony by three women who described how he allegedly drugged and assaulted them.
Prosecutors are building a case that he was one of Hollywood's biggest predators long before he met Andrea Constand, the chief accuser in his sexual assault retrial.
The alleged victims described meeting Cosby as star-struck young women seeking career help or, in the case of a casino bartender from Reno, Nevada, simply looking for a fun time
All of them testified they ended up unconscious from the pills or alcohol he gave them, unable to say no or repel his sexual advances.
"I was raped," declared former bartender Janice Baker-Kinney, who was 24 when she says Cosby gave her pills and had sex with her in 1982.
Cosby's lawyers say Ms Baker-Kinney, who now works as a stage manager on pro sports broadcasts in the San Francisco area, took the drug willingly.
Another accuser, sobbed uncontrollably as she told jurors she got to know Cosby through a family connection as a 17-year-old aspiring model and actress.
Chelan Lasha said Cosby gave her a little blue pill he described as an antihistamine to help her get over a cold, along with two shots of amaretto "to help break up the cough".
The combination immobilised her and rendered her unable to speak, and Cosby then assaulted her, she said.
Turning to Cosby, she made the remark that suggested he remembered the encounter.
Cosby, who portrayed kindly Dr Cliff Huxtable on his hit TV comedy "The Cosby Show", turned away and smiled slightly.
Ms Lasha, Ms Baker-Kinney and a third woman who also testified, Heidi Thomas, are among five additional accusers whom prosecutors plan to call to make the case that Cosby was a Hollywood predator who is only now facing a reckoning after allegedly assaulting Ms Constand at his suburban Philadelphia home in 2004.
The defence claim Ms Constand is a "con artist" who preyed on Cosby's vulnerability after the 1997 killing of his son, Ennis, and then framed him to score a big payday via a 3.4 million dollar (£2.4 million) civil settlement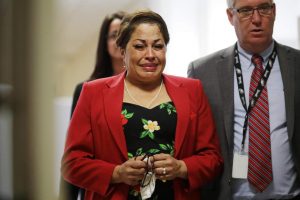 They have urged jurors to ignore the other accusers, calling their allegations irrelevant to the charges involving Ms Constand, who turned 45 on Wednesday.
Outside court, Cosby spokeswoman Ebonee Benson called the testimony from prior accusers a "prosecution by distraction"
"When you don't have a case, you'll fill the case with something else," she said. "Once the jury hears the evidence of the case we are here for, they will render a verdict of not guilty."
Ms Constand, a former Temple University women's basketball administrator, alleges Cosby gave her pills and then molested her. He says the encounter was consensual.
His first trial last year ended in a hung jury.