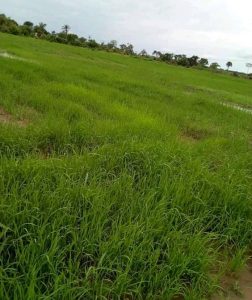 AYETORO-YEWA – The Ayetoro Traditional Council of Chiefs in Yewa North Local Government of Ogun State has showered encomium on the State Government for the cultivation of 250 and 400 hectares of land for cassava and rice, in the Council area through the Federal Government sponsored Anchor Borrowers' Programme.
According to a release e-signed and made available to StarTrend Int'l & online – www.startrendinternational.com by Lateef Akintunde, ZIO, Ayetoro-Yewa, addressing pressmen, Baale of Joga, Ayetoro, Chief Solomon Akinlotan, said that the programme was designed to make participating farmers adopt mechanized farming, thereby growing their crops in commercial quantity.
Akinlotan said the scheme was a welcome idea that would facilitate youth empowerment, food security, poverty eradication and to emulate of our founding fathers that made developmental projects from agriculture.
He also commended security agencies who collaborated with traditional rulers to curb the excesses of herdsmen, advising them to sustain the tempo.
Also speaking, the Oga Ilu of Ayetoro and the President, Iteti Agbe Agricultural Cooperative, Chief Ishola Olateju praised government for fulfilling its promises to local farmers.
Olateju enjoined beneficiaries of the largesse to pay back the loan given to them at stipulated time, so as to have access to another round of loan under the intervention.