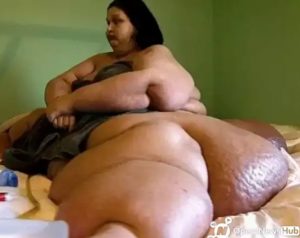 The world's heaviest woman, Mayra Rosales who once weighed 1036 pounds which is equal to 470 kg has finally loses more than 800 pounds, after multiple surgeries and a strict diet.
Mayra was diagnosed with lymphedema which is the arms and legs swelling due to lymph build-up which forced her to stay in bed for years, because she was too heavy to move alone.
In 2008, Mayra wanted to lose weight after she was accused of killing her nephew by throwing her half ton weight onto him. And this won her half ton killer tag. But the charge was later dismissed when the prosecutor found out that Mayra had taken the blame to defend her friend.
It has been discovered that Mayra's sister who is the boy's mother hit her son with a hair brush that led to the boy's death.
Mayra however knew she needed to improve her life in another way after clearing her name of the murder, so she decided to lose weight.
Although the journey has been rough as she has to make a lot of change in her lifestyle, but she overcame all challenges with determination and reached her goal. .