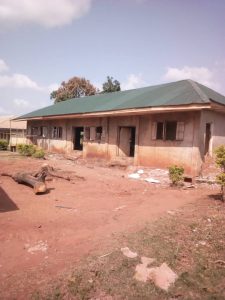 AYETORO-YEWA – The old Students of Alaye High School, Ayetoro in YEWA North Local Government has sunk borehole, renovated dilapidated structures, as their contribution towards improving educational sector and its Alma mata contribution in the State.
According to a release e-signed and made available to StarTrend Int'l & online – www.startrendinternational.com by Lateef Akintunde, Zonal Infomation Officer, Ayetoro, the Acting National President, Old Students of the School, Mr Sulaimon Atinsola disclosed this while speaking on a telephone interview with OGIS Correspondent on preparation for the 40th Anniversary of the school.
Atinsola said that the association had renovated a block of two classrooms, staff-room, 250 seaters school hall, award of scholarship to indigent students, as well as sinking of borehole to provide a portable water for the students and for use at school laboratory.
He added that the Alma Mata was planning to partner the Ogun State Government in upgrading the school into boarding facilities, noting that it would reduce travelling of students to their various villages on weekends.
Atinsola further revealed that plans were underway to obtain the master plan of the school library and modern laboratory, as well as offering mentorship to younger generation towards having a successful life.
He implored the government to recruit more Teachers especially the science ones to bridge the gap of vacant ones, urging them to renovate dilapidated structures in schools across the state.
In his reaction, the Projects Chairman, Chief Yunus Akewusola said the mission of the Alma Mata was to provide a conducive learning environment and reduce the number of out of school children in the State
"Our children belongs to the classrooms and not on the streets. They deserve best education and not hawkings and idling away, we also need to support the government to drastically reduce the out of school children," he said.
While speaking separately, the Principal Junior Secondary School (JSS), Mr Gbenga Fakunle and the Principal, Senior Secondary School(SSS),Mrs Augustine Meshioye expressed their appreciation to the old students on the laudable projects executed, assuring them that the school would utilise and maintain the facilities judiciously.