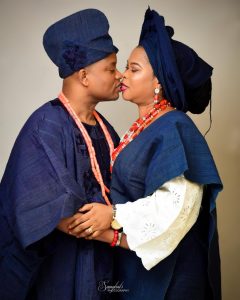 Alhaja (Chief) Mrs. Memunat Haruna has described her husband, Alhaji (Chief) Waidi Haruna as the love of her life and everything to her.
Alhaja Haruna stated this in the early morning of Thursday, December 10, 2020 during a special and surprise birthday morning devotion she organized for her husband to mark his 60th birthday anniversary which took place at their palatial residence in Omole Phase 2, Ojodu, Lagos.
Lady Wadoye as fondly called had secretly planned the surprised birthday bash without her husband knowing.
Her words, "To God be the glory that we are celebrating my husband's Silver Jubilee today. I can't describe the depth of my love for my husband. But I know one thing; his love resides in my heart.
"My husband is everything to me. He cares for my entire life. I don't know why God has chosen to give me someone that cherishes and accepts me for what I am.
"I have perfectly understood his body language. I know when he is going to approve any proposals and when he would not.
"I respect my husband the way I genuinely love him. I don't feel ashamed to kneel down for him even in the presence of over 1,000 guests that assembled at my 50th birthday. Whenever he takes offence, I quickly go down on my knees to apologize."
She stated further, "When I asked him how he would want his 60thbirthday celebrated, he said "in a low key", citing Covid-19 as a barrier. That's him, but I knew he deserves more than low key celebration.
"Meanwhile, I didn't know how to go about it. So, I started inviting our friends at home and abroad. But because of the nature of my husband, no one among those invited rejected the invitation even those outside Nigeria, and they all came from London to grace the occasion.
"Surprisingly, today also marked 35years we've been living as husband and wife. And I never regret being a wife to him.
"My prayer is that God continues to protect him for me. Both of us will live long so as to fully enjoy each other to the glory of Allah. May God not allow any intruder to come in between us."
HAVING A FATHER LIKE MY DAD IS HUMBLING AND A SPECIAL ASSET TO POSSESS – AbdulFatai
Mr. AbdulFatai Haruna, heir apparent to Alhaji (Chief) Waidi Haruna has described his father as someone who is loved by everybody, apparently due to his behavior, deeds, attitude, and humane disposition.
Mr. Haruna stated this during a special surprise birthday morning devotion organized for his father by his mother in the early morning of Thursday, December 10, 2020 to mark his 60th birthday anniversary which took place at their palatial residence in Omole Phase 2, Ojodu, Lagos.
Hear him, "I'm happy the house is full for the celebration of my Dad's 60th birthday today. My siblings asked me to thank all our guests that made it happen today. It's all about love sharing.
"My father is second to none; When I was young, may be two years old, I remember that day when daddy was taking me to school (Blossom Nursery School, Lagos) on motorcycle. He was riding motorbike then. He sat me in the front. And I felt the link between a caring father and his son who has just started his career.
"Since then, he consciously drives us towards success."
AbdulFatai continued, "Daddy is always ten miles ahead. He knows when to move and when to standstill. Infact, he knows how to go around situation such that it will result into success.
"It's a quality he is trying to instill in us his children as well as staff of Wadoye Express Ltd and the community at large.
"As a man, having a father like him as a mentor to look up to for guidance is very humbling and he is a special asset to possess.
"I want to also use this opportunity to thank my Mommy for all herlove to us her children. Thank you so much for all you have done and that you will continue to do. God will continue to bless you and Daddy's efforts."
MY BROTHER IS A GOD-FEARING, HUMBLE, NOISELESS PHILANTHROPIST – Pastor Abiodun
Pastor Abiodun Michael, cousin to Alhaji (Chief) Waidi Haruna has described him as someone who doesn't see himself as a special person.
Abiodun noted that if not for Wadoye, "the title of Parakoyi of Ilora, Oyo State which has been our revered inheritance title would have gone into oblivion.
"No Parakoyi title holder in the history of our town – Ilora, has been committed to our lineage, but Alhaji Waidi Haruna connects all of us, both at home and in the Diaspora to achieve the success.
"I will say something this morning and I don't care if he would take offense; the secret behind the cordial relationship that exists among our extended family today is due to his wife – Alhaja Memunat's relentless efforts.
Abiodun stated further, "I noticed that if Wadoye realized that something must be done, he makes sure it happened, though after that he might not answer your calls in the next two years. But he would have done that thing you requested from him.
"Secondly, Alhaji is a type that everybody wants to meet. And once he noticed that, he quickly makes himself available at that time; thereafter, unavailable.
Alhaja, I thank you. I appreciate you. I have now realized that it's only a good wife that stand-in for her husband so as to cover up the man's inadequacies.
And when a woman can fill that gap, she has given the man long life because if a wife refuses to make herself available in such situations, it creates problems in the family.
"In the past, some people believed Alhaja has been using a force on Wadoye, but with time, it became clear to us all that it wasn't charm. It was because Alhaja volunteered herself to fill in the gap, so that she can adequately compliment her husband to become a perfect man.
"Alhaji, I now pray God to give you good health and long life. As your fathers had lived hundred years, so shall you outlive them. We will all be present to celebrate your 100 years on earth.
"My sweetheart as I used to call Alhaja, I pray that your evening shall be prosperous. You shall be blessed with sound health.
"As for your children, May they not derail from the doctrine of Islam you handed over to them. The Quliawusuyou taught them will continue to guide them.
"Infact, I thank God that they remained their original persons in the Western world where their peers had indulged in drugs and other vices. If they had taken after their colleagues in immorality and lawlessness, we wouldn't be able to gather here this morning.
"I pray that the spirit of God and Islam will continue to lead every member of this family aright."
THE WADOYES ARE NICE AND LOVELY COUPLE – Aloso
Mr. Aloso, a London-based family-friend to Alhaji (Chief) Waidi Haruna has described him as a good father to him.
Aloso who said this at the 60th birthday ceremony of Alhaji (Chief) Wadoye which took place on Thursday, December 10, 2020, at his Omole Phase 2, Ojodu, Lagos disclosed that in thelast 15years he had known Alhaji and Alhaja Wadoye, they remained a nice and lovely couple.
His words, "Couple of minutes ago, Alhaji Wadoye explained why he always refers people to his wife. I'm happy that I am here today to know the reason.
"On several occasions, it has been like, Alhaji you said I should come today. Oh, I am sorry I am now in China. You should have told
Iya Dare. I will murmur, and ask myself, why should everything have to pass through Iya Dare?
"Alhaji Wadoye is a lovely father. There was a day Alhaji was in London and my event was three days away. He said, Aloso, why did you have to wait till today before telling me?
"Surprisingly, 24 hours to the event, Alhaji has arrived London for the event.
Likewise Alhaja; she is so caring that I have a special dish in her kitchen. Anytime I am around, Alhaja is ready to make it available."
ALHAJI WADOYE; A MAN OF INTEGRITY – Waliu Asade
Alhaji Wasiu Asade has described Alhaji (Chief) Waidi Haruna as a man of honour and integrity.
Ashade who said this at the 60th birthday ceremony of Alhaji (Chief) Wadoye which took place on Thursday, December 10, 2020, at his Omole Phase 2, Ojodu, Lagos residence said words could not express the good qualities of Wadoye, adding that his (Asade's) success could only be traced to him.
Wally is fondly called, who is Wadoye's Personal Assistant said, "Alhaji Wadoye is my in-law. He's my sister's husband.
"He is like a brother because I have been with him since 1994 and he has been there for me ever since then.
"Words cannot express the good qualities of Wadoye. I am his overall PA and there's nothing I don't know about him. He is a friend of everybody and he never discriminates.
"He's also a noiseless philanthropist who never tells anyone about who he helps.
"I pray that God grants him long life and good health for the rest of his life. May the devil never have way into his family and God will preserve the lives of his children.
WADOYE IS AS A NOISELESS PHILANTHROPIST AND HUMBLE MAN – AbuSatar
The Publisher/Editor-in-Chief of StarTrend Int'l magazine & online, Elhadj AbuSatar Hamed has described Alhaji (Chief) Waidi Haruna, fondly called Wadoye as a noiseless philanthropist and humble man who is blessed by God, and very accessible.
The former Chairman, Oronna-Ilaro Planning Committee (2003-2005) said this at the 60th birthday ceremony of Alhaji (Chief) Wadoye which took place on Thursday, December 10,2020 at his Omole Phase 2, Ojodu, Lagos.
Hear him, "When I was the Chairman of Oronna-Ilaro Festival Planning Committee, I contacted him and his tremendous contribution towards the success is what I can never forget.
"Since, then he hasn't changed. He isaware that I know a lot of people, but his disposition to me is commendable.
"So, I'm very happy to be here this morning. And Alhaja, my good sister, I appreciate you for all that is taking place here today on your husband's Silver Jubilee. Almighty Allah will compensate you in many folds.
"May your children  also find good backups like you have been to their father.
To all staff of Wadoye Express Limited, infact, Wadoye deserves reliable staff like you all. God will remember you all for good in connection with the good you are doing to him and the company.
"Waliu, my dear brother, God will reward your sincerity of purpose with your in-law – Wadoye. Yesterday when I heard your voice I said you were sounding like Wadoye himself. Keep the loyalty up bro."
TODAY, I HAVE MANY REASONS TO APPRECIATE YOU MY FATHER – Momo
"Since I lost my father at age five, Ihave been under the roof of Alhaji Waidi Haruna, I felt I was been maltreated, but it wasn't so."
Mrs. YetundeIge, fondly called Momo stated this at the 60th birthday ceremony of Alhaji (Chief) Wadoye.
Her words, "Even during turbulent periods in my marriage, Wadoye's advice always sound negative, but today, I am grateful to God that he put me under loving care of the most responsible and kindly father.
"Whenever I ran to him on my husband's misbehaviour, my father would tell me to return to him; that it's my marital home and I should stay put.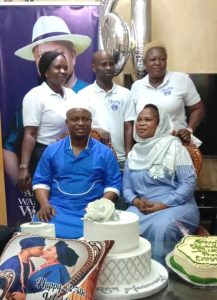 "There was a day I went to him having determined to move out from my husband, Wadoye directed me to Alhaja Wadoye and I insisted that I wanted him to permit me to leave.
     "He will tell me, Momo, iya re n pe e leyinkule", and I said noo, iyakankan o pe mi leyinkule, mi o fe so fun Momi, eyinnimofeba so o."
She continued, "He was trying to neutralize the pains in my mind. I told him I am set to leave the marriage. He ordered me not to leave my husband. He always assures me that it shall be well with me. Reason I am extremely happy today.
"Today, I have many reasons to appreciate you my father.
WADOYE'SN5M REHABILITATION OF A ROAD IN AJUWON IS COMMENDABLE – Baba Omo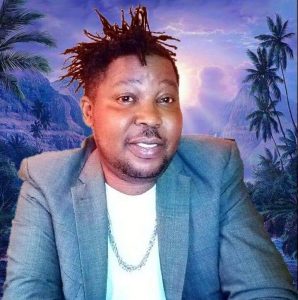 Mr. Adebowale Osho, aka Baba Omo disclosed that he met Alhaji Waidi Haruna during one of GNI's Governorship campaign.
Baba Omo stated that "long before then, I didn't understand what the name Wadoye means.
"Along the line, my sister purchased a piece of land around Baale area. Neighbors advised us to always take short route, on our way from Okota, we were told to pass through Ajuwon. And from Ajuwon, we should ask for Wadoye road which is very popular. Is Wadoye an area, someone's name or what?
"It got to a time, the Okada riders were fond of commending Wadoye; they would say it shall be well with Wadoye. God will bless Wadoye and so on.
"There was a day someone said, God will bless Alhaji Wadoye. That was the day I knew Wadoye is a human being.
"Another time, an Okada rider lamented the way people were ingrate to Wadoye.
"The most shocking was the day an Okada rider asked us whether we have seen someone who instead of celebrating his birthday in a N5m event hall used the money to rehabilitate road in his area.
"That day I said to myself it gonna be that Wadoye is a man who have fear of God. And not quite long, I met with him as well as Alhaji  Waliu, Congo and IyaIbeji.
"Alhaji, God will never forsake you. You shall live longer to enjoy more of God's grace."