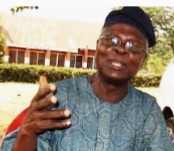 OYO TOWN: Oba Lamidi Adeyemi III, the Alaafin of Oyo, has sent a congratulatory message to Mr. Felix Adedapo Adenaike, former MD of defunct Sketch Newspapers and Editor-in-Chief of Nigerian Tribune on the occasion of his 80th birthday.
Alaafin in his message wrote: "I rejoice with Mr. Felix Adenaike as he turns 80. He has no doubt distinguished himself as a pride not only to his family but to the whole country as a professional journalist where he put his mark down both as an administrator and also as a practitioner.
"He along with his two peers, the late Peter Ajayi and Segun Osoba can best be described as the torch that beamed light into the professional journalism in modern time. This can be shown in their incorruptibility and untiring honesty in their pursuit of the profession.
"Whether as General Manager of the defunct Sketch Newspaper or as Editor in Chief of the Tribune, he was uncompromising in the pursuit of truth, rather than sensational reporting by which the two papers under his leadership became readers' toast."
Oba Adeyemi however prayed that "God should continue to guide, protect and provide for him in his old age so that the new generation of journalists and Nigeria at large can continue to enjoy his wealth of experience for a long time to come."