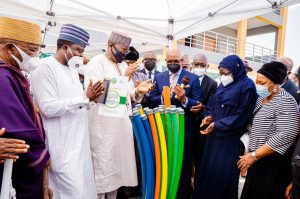 ABEOKUTA – The Ogun State Governor, Prince Dapo Abiodun has said that provision of Information Technology (IT), will accelerate the growth of the State by smartly applying innovation and technology, especially in solving economic and commercial issues among others.
The Governor stated this on Thursday, April 15, 2021 at the official launch of Ogun Digital Economy Infrastructure Project (OGDEIP), held at Ogun Tech Hub, Abeokuta, the State capital.
Abiodun said that the launch would further enhance the ease of doing business in the State, noting that recent events had shown that various roles of digital technologies in solving many human challenges and transforming every aspect of the economy cannot be overemphasized.
His words, "Indeed, it is very obvious especially during the critical period of Covid-19 when many Nigerians had to work from home, where businesses were transacted virtually and payment made online.
"Virtual became norms and online meetings became the in-thing as almost every aspect of economy and personal life and living depended on ICT and digitized."
The Governor noted that the Federal Government policy of creating a thriving digital economy would enable the people, especially the youths, to take advantage of the information superhighway and new technologies to become leading players in the globalized world.
According to him, the Ministry of Justice has already taken advantage of digital economy towards the developing of data-driven judicial reform and the improvement on the speed of Justice administration in the State, saying that all these reforms and development were just part of the positive impacts of the digital economy.
In his address, the Hon. Minister of Communication and Digital Economy, Dr. Isa Ali Ibrahim Pantami, represented by Executive Chairman, Nigeria Communication Commission, Prof. Umar Garba Danbatta, said that Ogun State Digital Economy and Empowerment Project was a great step in positioning the State towards embracing the digital economy, noting that it was timely and commendable.
The Minister observed that the expansion of the digital economy of the State would strengthen its existing economy, saying that it would also enable its diversification and create new economic opportunities for the state, thereby improving the quality of life of the State and Nigerians as a whole.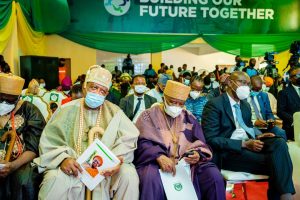 Welcoming guests earlier, the Special Adviser to the Governor on Information, Communication and Technology (ICT), Mr. Dayo Abiodun recalled that the Ogun Tech Hub was launched in the first 100 days of the administration of Dapo Abiodun, so as to buttress the importance of the activation of the digital economy to the development of the State.
He explained that infrastructure is crucial for economic growth, noting that like good roads, water resources, electricity and the likes, ICT infrastructure is equally critical and necessary for modern day economic growth.