By Dolapo Jinad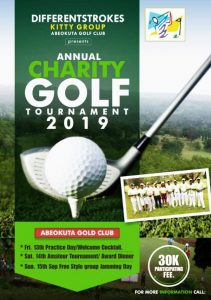 Third edition of the annual classic charity golf tournament of "Different Strokes Kitty Group" a golf group within Abeokuta Golf Club, under the Chairmanship of Hon. Justice Ademola Bakre (OON) kicks-off on Friday September 13, 2019 at Abeokuta Golf Club, Abeokuta, the capital city of Ogun State.
According to the information made available to journalists in Abeokuta by the Chairman of "Different Strokes Golfing Group", Hon, Justice Ademola Babatunde Bakre, who is also the Trustee of Abeokuta Golf Club, he appealed to the golfers across the country not to miss this year edition of the tournament.
Justice Bakre disclosed that a lot of wonderful packages and series of activities have been lined up for the tournament that will make the event more colourful than ever, saying, "the 2019 Different Strokes Kitty Group of Abeokuta Golf Club's Annual Tournament programmes is schedule as follows: Friday September 13 , 2019 is golfers arrivals to the Club and a welcome Cocktails Party for golfers holds from 7pm prompt at Green Legacy Hilltop, Presidential Hill Top, Abeokuta.
"Saturday September 14, 2019 is the Game Day, while Tee-off time takes place at Abeokuta Golf Club, Oke Mosan, Abeokuta starting by 7am to the last entries on the drawboard and Ceremonial Tee-off by different stroke members hold at 9 am."
According to Com. Dolapo Jinad, Publicity/Social Secretary of Abeokuta Golf Club, other activities of the day include, Lunch on course with drinks, snacks and other refreshment would be available reasonable intervals for the participants on the course.
Jinad also said that the Closing Ceremony and Awards Presentation Night would take place at Green Legacy Hill Top, Presidential Hill Top, Abeokuta on Saturday September 14, 2019 at 6pm prompt.
The "Different Strokes" of Abeokuta Golf Club with the aims and objectives to promote the Club and the game of golf within the State and outside the country, this year targeted well over 200 golfers from across and outside the country to participate in its 2019 3rd edition of the competition.