By Seyifunmi Odunuga
IBADAN – The Alado of Ado-Awaye, Oba Ademola Folakanmi has said that the abandoned Iyake lake in Ado-Awaye of Oyo State has the potentials of generating more revenue for Oyo State and Nigeria if fully gets necessary supports.
Oba Folakanmi stated this on Monday, October 26, 2020 in Ibadan during a news conference ahead of the maiden Iyake Festival in Ado-Awaye.
The monarch disclosed that the festival has been repackaged by the Ado-Awaye Tourism Heritage Development Initiative (ATHDI) in partnership with Red Alert Consult Limited(RAC).
StarTrend Int'l reports that the abandoned lake at Ado-Awaye is one of the two suspended lakes across the world.
Oba Folakanmi said that the lake which was a global tourist site for revenue generation had been neglected for many years.
He said that the federal and state government are losing so much revenue from the neglect of the tourist site.
The monarch noted that the festival was aimed at catapulting the economic potentials of the God-given natural resources that abound in Ado-Awaye.
His words, "The abandoned Iyake lake is not only unique for being the only natural that the festival was aimed at catapulting, but also the economic potentials of the God-given natural resources that abound in Ado-Awaye to the world.
"It is also unique for being a spiritual source, a medical source, an emotional resource, an education and cultural resource destination in concept, and nature.
"The vision is to create a veritable platform aimed at placing Iyake festival as a convergence where sporting activities, tourism, entertainment, arts and business potentials are explored maximally,"
Oba Folakanmi said that the effort was also to promote the cultural heritage and place the town with lots of potential for tourists from across the globe.
He stated further that the festival would also foster peace co-existence between the people, saying, "Iyake festival promises to be a foremost tourism brand in Oyo State that we all will be proud of in years to come."
The Chief Executive Officer, Red Alert Consult Limited, Mr. Babatunde Obalana, adding the efforts was to showcase Ado-Awaye community as a tourism destination.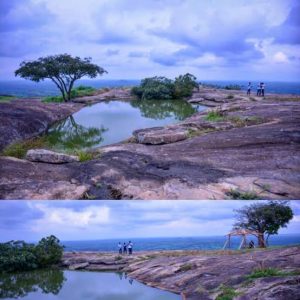 He acknowledged government's efforts on Education, Health and others, said the fastest developing area was also tourism.
"Our plan and vision is to turnaround this place. We want to impact the Ado-Awaye area as a tourism destination," he said.
The maiden edition of the festival would take place from December 7 to 11, 2021, while a test run holds from April 2 to 5 same year.
"Ado-Awaye community in Oyo State has an assemblage of breathtaking and spectacular rocks surrounding it with natural wonders that provides a fantastic opportunity for adventure in tourism," Obalana said.