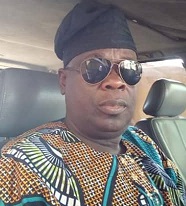 By Abiola Rufai
ILARO-YEWA: Chairman, Building Committee of the Ilaro Central Mosque, Alhaji (Pharmacist) Mukail Alao Lawal has join millions of welk-wishers to congratulates the Ogun State Governor, Prince Capo Abiodun on the occasion of his One Year Anniversary In Office and 60th Birthday Anniversary.
The adminstration of Governor Dapo Abiodun will be one year on Friday, May 29, 2020, the day he will also clock 60 years in this world of rat race.
Pharmacist Lawal who in an interview with newsmen at Ilaro-Yewa, headquarters of Ogun West described Governor Dapo Abiodun as a lovely Governor, saying, "The first thing that surprised me most about the Governor was the renovation of the State Hospital, Ilaro, and upgrading the facilities to a modern one.
"Having changed the face of that hospital in a short period of his tenure as governor in the state; to me, he has done very well.
"As for his birthday, I want to wish His Excellency many happy returns of the day, long life and prosperity. I am very sure that his administration will put smiles on faces of the people of Ogun State".
Pharmacist Lawal also advised Muslims to put into practice lessons learnt during the concluded Holy Month of Ramadan and always endeavour to give supports to the havenots in the society.
While commending the Federal and state government in their bid to contain the spread of covid-19 pandemic in Nigeria, Pharmacist Lawal enjoined citizens of Ilaro and its environs to obey the rules and regulations given by the government to curb the spread of coronavirus.
He warned those that were doubting the existence of the virus that the disease is real and has killed thousands of people, globally.