IBADAN – Today, Sunday, April 3, 2022, marks the 80th birthday of Professor (Evangelist) Ebenezer Obey-Fabiyi, MFR, better known and called the 'Chief Commander Of Juju Music'.
Born on April 3, 1942, at the famous Massey Street Hospital, on Lagos Island, Lagos State of Nigeria, the baby-boy who would later change the face and soul of the Yoruba music genre – Juju, for the better, was raised by his parents at Idogo, near Ilaro, in the former Egbado Area (now Yewa) of Ogun State of Nigeria.
From early age, Ebenezer, who attracted the alias of "OBEY FIRST, AND THEN COMPLAIN", from primary school at Idogo, not only displayed musical talent, but leadership traits.
He built self confidence from youth and Christian ideals as he grew up in the church choir.
My association with the Chief Commander formally started 48 years ago, in 1974 precisely, as a late editor of the Sunday Sketch weekly, Mr. Phillip Bamidele Adedeji, had kindly considered me worthy of editing the social page of the weekly, even though it was less than a year after the now-defunct Sketch Publishing Company Limited, Ibadan, had employed me as a reporter/writer/reader grade 11.
I was placed on the  Gboungboun desk as a reporter/reader/columnist (MO RI FIIRI).
After attending a social party at Oke Ado area of Ibadan, one day, I interviewed the leader of the Juju music band that entertained the guests, Mr. Makanjuola, whose band played exactly like the International Brothers Band, led by Ebenezer Obey.
I submitted my review of the Makanjuola band performance to Mr. Adedeji, who not only published my piece, but encouraged me to write more reviews for his paper.
Mr. Adedeji's kind act attracted unfair, I don't want to say envy, criticisms from some so-called seniors at Sketch, who doubted my authorship of the reviews, as they had wondered how on earth a fresh employee could produce such quality stuff. Moreso, a Gboungboun reporter!
But, Mr. Adedeji was unmoved by the doubting Thomasses, rather he encouraged me on.
My becoming the editor of the social page of the Sunday Sketch opened doors to many Nigerian musicians, actors and writers, one of which Ebenezer Obey was, and still is.
Years before 1974, I was a regular at the now-defunct Western Nigeria Television (WNTV) Ibadan's weekly dance programme – (COME LET'S DANCE) hosted by the delectable broadcaster-turned-lawyer, the late Auntie Toun Adeyemi. Obey featured regularly on the programme.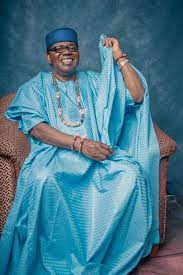 But, my first attendance of Obey's band live show was 52 years ago, in 1970, at the Oyenugas celebration of their matriarch, at Isale-Igangan, Lagos Island, where the International Brothers Band and the Melody Makers Band, led by the late Ayinde Bakare  played.
I was a guest of Kola Oyenuga, the late Tunji Wellington and Deji Wellington.
Pa Oyenuga, the host,and the late Pa Daniel Oreyomi Adesina Wellington were close friends. In fact the young Obey serenaded both friends as his financiers,in a small plate he waxed in the 1960's.
Obey is a great composer, philosopher, morality preacher and society's mirror. He has come a long way from the unknown 21-year old.
"I am a future star" musician who God used a former British Managing Director  of DECCA (WA)RECORDS, Mr. Kress, to make a fortune and fame, through his (Obey) first record, 'E WA WO OUN TOJU MI RI", an account of a burglar who was electrocuted at an electronic's shop in Mushin. Even though the alpine smash, "OLOMI GBO T'EMI", launched Obey into the world.
The manner by which Obey broke protocols to reach Mr. Kress can only be ascribed to destiny and 'braggadocio'. Kindly read Obey's account of how he penetrated the DECCA (WA) RECORDS Office, without a previous appointment, in his biography.
The almanac below illustrates my long association with Obey, climaxing in my heading, as Chairman of the Committee that planned his 70th Birthday Luncheon/Biography, Launch/Idogo Town Hall completion and donation in 2012.
His congratulatory letter to me on my 50th birthday in 2000,speaks volumes.
I wish Baba Commander many happy returns of the day.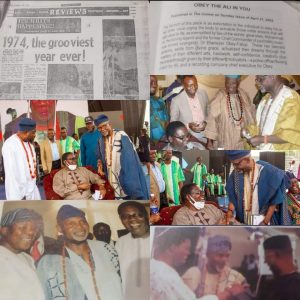 CAPTIONS
L-R: My review of the social scenes in Nigeria and the world on December 29, 1974 Sunday Sketch newspaper issue. In that review, readers chose Obey as the best composer and his band, the best dressed.
Pic 2:
My 60th birthday tributes to Obey and Muhammad Ali, in 2002, in the Sunday Comet newspaper issue of April 21, 2002. I had compared the hand of fate in the life of Muhammad Ali (then Cassius Clay, Jnr). 
Ali, a young boy, had had his  Christmas present, a brand new bicycle, from his father, Clay, senior, stolen at a  park in Louisville, USA, his hometown.
       The theft led Ali to his great destiny of boxing. Please, read Ali's autobiography, "THE GREATEST" to discover more about the making of the world's greatest boxer that has ever lived.
       Same fate led Obey to his destiny, from a poor, struggling musician to the music icon who later bought over DECCA.
Pic 3-
I spray Obey at the 91st birthday party of his late friend and longtime fan, Professor Toriola Ajagbe Oyewo, SAN, our own Uncle and law icon,on Sunday, 16th January 16, 2022.
Pic 4-
Obey and I at the final funeral programme of the immediate past Olubadan of Ibadanland, Oba Saliu Adetunji,Ajeogugunniso 1 at the Obafemi Awolowo Stadium, Oke Ado, Ibadan, on Sunday, 12th February 12, 2022.
Pic 5 –
Obey (left), the late Mr. Adagbada (right) and I at the "Return to Stage" party of Obey sponsored by the City People magazine, in Ikeja in December 2009. I was at the Abeokuta Church service in 1992, when Obey told the world he was quitting the stage.
Pic 6 –
Obey and King Sunny Ade, MFR, felicitating with me at my 60th birthday party on October 27, 2010, at the Ibadan Civic Centre, Agodi GRA, Ibadan. Obey was engaged to play at my 40th birthday party on October 27, 1990 as his band, the Inter-Reformers did at my 60th on October 27, 2010, in Ibadan.