IBADAN: A group of golfers, popularly known as Hole 19/20 Hollers, has commended the effort and initiatives of South West Zone, Lady Golfers Association of Nigeria (LGAN) on its decision to immortalise the Lady Captain, Ibadan of Golf Club (IGC), Miss Folashade Oni, who recently passed on to the great beyond.
According to a release e-signed and made available to StarTrend Int'l magazine & www.startrendinternational.com by Com. Dolapo Jinad, the group Coordinator, LGAN has renamed its yearly Ladies Golf Tournament after the deceased's name – "Folashade Oni Memorial Ladies Golf Tournament".
The LGAN South West Zone, Vice President Mary Okunola said, "In light of the demise of our beloved Folashade Oni, Lady Captain of Ibadan Golf Club and bonafide member of LGAN, the annual Western Zone Tournament shall henceforth be named, "Folashade Oni Memorial Ladies Golf Tournament". This starts with immediate effective. All Lady Golfers are expected to attend the maiden tagged 'A Night for the Star – Folashade Oni".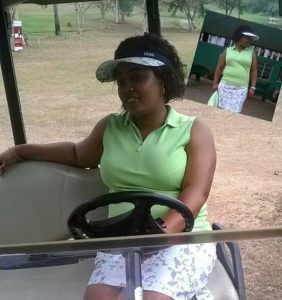 Hole 19/20 Hollers, a golfer group Late Folashade Oni was a bonafide and active member and her first contact golfing group, commended effort of the LGAN, saying it will go along way to keep the memories of late Shade Oni living in the golfing circle.
In his tribute to the deceased, the Vice Captain of IGC, Chief Ola Ibironke, described the death of Folashade Oni as a great loss to the entire golfing communities in Nigeria. He prayed that God would give them fortitude to bear the irreparable loss.
Also, in his condolence message, a Senior Head Master of the group and former Captain of IGC, Mr. Akin Funmilayo, described the late Folashade Oni as a finest, dynamic and pleasant lady golfer, saying her death would continue to be a great loss to the golfing families.
Mr. Funmilayo on behalf of the Hole 19/20 group, commended IGC members' active role by taken up the burial arrangements and programmes of the deceased, especially the Board of Trustees and Executive members, under the captaincy of Col. Ade Sunmonu (rtd) for given the late Lady Captain Folashade Oni, a beautiful burial.
Another Head Master of Hole 19/20 from Ikeja Golf Club, Lagos, Chief Doyin Owolabi, who said people should learn a good lesson from the death of Folashade Oni expressed his appreciation to members of IGC and the management committees for the last respect given to the deceased, which fell in line with golf traditions.
He also expressed his thanks to the Nigeria golfing communities for showing their loves and supports to Shade Oni, even in death as they hosted the two-in-one events, South West Lady Golfers Tournament and IGC Ladies Open, that suddenly became Folashade Oni's memorial tournament.
In his condolence message to IGC and Hollers, a very senior Head Master of the group, from Ilorin Golf Club, Barr. Gbegbaje Tony said it was as if he is dreaming that Folashade Oni whom supposed to be host of the last two-in-one ladies golf tournaments is not going to take part in that competition, but the tournament now held as memorial in her honour.
"Let us continue to love one another genuinely and remember that there is time apportioned for everything. May we all continue to enjoy God's Grace in good health and prosperity till our old age", he said.
Also speaking on the death of IGC lady Captain, Head Mistress of the group and a former lady Captain of IGC, Mrs. Evenly Oyonmen said, "No doubt Folashade Oni will be greatly missed forever among the lady golfers.
"I want to also use cthis medium to thank members of LGAN for their love and prompt decision to immortalised the deceases's name with the annual South West ladies tournament to "Folashade Oni Memorial Ladies Golf Tournament". LGAN is one happy family and it will remain to continue administering the role, values and right of women golfers in the country".
Evenly Balogun and Mrs. Dupe Johnson, in their separate condolences remarks said the news of Ms. Sade Oni's death was a rude shock to them, "as some members left her at the club late in the night on Sunday, bumbling with full life, cracking jokes with other members present at the IGC clubhouse.
"She was a seasoned Lady Golfer and Lady Captain of Ibadan Golf Club until her untimely death. We prayed for the peaceful repose of her soul, and God give her family, friends, Ibadan Golf Club and
the Ladies Golfers Association of Nigeria the fortitude to bear this great loss".
The Secretary to the Professional Golf Association (PGA), Mr. Jide Bolaji and former number one Nigeria golfer, Prof. Lateef Lasisi in a separate messages give kudos to LGAN on their quest to immortalised the name of late Folashade Oni. They promised to be part of the annual event as Hole 19/20 members.
"Folashade, you will surely be missed by all. You had gone too early. To say that death is wicked it's an uncontroversial fact. Had it been possible, we would have appealed to death to take materials things from us and spear your life, but it's not possible because we are all mortals. God knows everything and we succumb to the will of God and take solace in the fact that you were loved by all during your
short stay on earth," posited.
In his Special condolence and sympathy message to Ibadan Golf Club, her special golfing group, Hole 19/20 and the entire golfing circle headed by a Master of the group, from Abeokuta Golf Club, TPL Gbolade Badejo, described death of Folashade Oni as a loos that might never be replaced in a distance time, saying Folashade was and amiable and vibrant young lady golfer, while he admonished other womento emulate the good part of her.