By Snr. Chief 'Lekan Alabi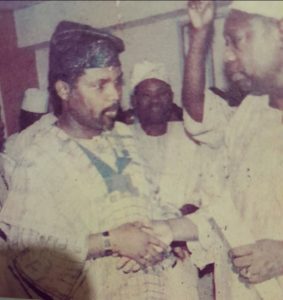 One of the deep-rooted Yoruba idioms is:"L'owe, l'owe ni a nlu ilu agidigbo, ologbon lo njo o, om'oran lo mi a mo o" (Beats and idioms that ooze out of the Agidigbo musical instrument is for sages to decipher and understand).
The title of the weekly Saturday Tribune newspaper interview (reproduced in this post) is what Yoruba describe: "Mo su s'epo, mo to s'aala, won ko ba mi wi rara" (Getting unscolded for blue murder!).
What an affront, if not an absurdity, for anyone to have said: "How Abiola treated me after I abused him."
Abused who? The great and legendary MKO?
The yet-to-be-declared winner of Nigeria's fairest and freest presidential election (June 12,1993)?
Africa's best-known philanthropist?
The Chairman of my 40th birthday Lecture/Luncheon in 1990, who flew in from London a few days to the celebration?
I didn't actually "abuse" Bashorun Moshood Kashimawo Olawale Abiola, GCFR. God forbid.
But, the agidigbo factor I mentioned earlier in this post comes handy, if my reader is to understand the events that happened between 1980 and I986, involving the late chartered accountant, publisher, politician, philanthropist etc and my humble self.
After I had been employed by the now-defunct Sketch Publishing Company Limited (SPCL), Ibadan, as a Reporter/Writer/Reader Grade11 in October, 1973, my friend and professional colleague, Rasheed Adegbenro, now a pastor was also employed by the SPCL. Rasheed was deployed to the Sports Section of the newspaper company, while I was in the Yoruba department, as columnist in the popular Gboungboun weekly and also in the Sunday Sketch weekly.
Rasheed and I were inseparable, as it were, until I proceeded to the famous College of Journalism, Fleet Street, London, United Kingdom in 1976, and Raheed, to the University of Lagos to study Mass Communication.
By the time I returned to Nigeria and the good old Sketch, Rasheed had been employed by the Nigerian Television, Ibadan.
As a result of the intervention and encouragement of Dr. (then Mr.) Yemi Farounbi, General Manager of NTV IBADAN, I joined the television station in 1978, as a cadet editor, reporter and presenter/producer of her weekly current affairs personality interview programme, "SPEAK OUT".
In 1980, the Dauda Soroye Adegbenro Family of Owu, Abeokuta, Ogun State, organised the maiden ALHAJI D.S. ADEGBENRO MEMORIAL LECTURE, in honour of the former Balogun Owu/Ekerin Egba, politician and Minister in the Obafemi Awolowo-led Action Group Government of Western Nigeria.
It was held at the Akin-Olugbade Events Centre, Ita Iyalode, Owu, Abeokuta. I was invited to the lecture by Rasheed.
On the day of the lecture, the audience waited for hours for the arrival of the Chairman, Alhaji (Chief) Moshood Kashimawo Olawale Abiola, who was then just emerging on Nigeria's social scene.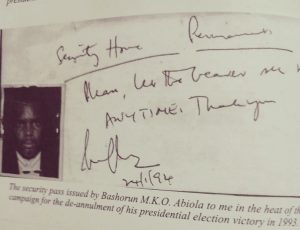 On reaching the conclusion that the lecture must proceed without the designated chairman, Rasheed, who sat beside me, had to join his siblings in the hall to kick-start the programme, when Chief (later to become known and called Bashorun) Abiola entered the hall from the backdoor.
Providence made Abiola take over the vacant seat of Rasheed beside me and we started to chat.
Abiola asked me how far we had gone with the programme and I replied that we were just about to start. He said he was the chairman and blamed his lateness on the sticky Lagos traffic.
After I had given him my copy of the programme, Chief Abiola said my face looked familiar and asked me for my connection with the programme.
I replied him that I was from Ibadan, to lend my support to Rasheed, my friend and professional colleague at the NTA IBADAN.
Chief Abiola, then asked me how much of the late Alhaji Adegbenro I knew. I must have pricked some political nostalgia in Abiola when I replied that as the eldest grandchild of Mama Asma'u Odunola Alabi, the late Woman Leader of the NCNC, under the late Adegoke Adelabu Penkelemesi in Ibadan, in the 1950's, I knew not only Adegbenro, but also Adelabu, Obafemi Awolowo, Samuel Ladoke Akintola etc.
Abiola got fascinated by my recall of history, as his family in Abeokuta were supporters of Adelabu and rhe NCNC.
As the Master of Ceremonies was calling on him (Chief Abiola) to proceed to his seat on the high table, he asked for my pen and a piece of paper on which he wrote his private telephone number at home, saying: "This is my private home number. Give it to no one, and call me later tonight." I did as I was told.
And that chance conversation and meeting between my humble self and the world-class chartered accountant, philanthropist, businessman, publisher and politician who would later win Nigeria's freest and fairest presidential election on Saturday, June 12,1993, led to a bond graciously allowed by MKO.
It drew us close so much that I facilitated MKO's first appearance on NTA IBADAN's current affairs interview programme called: "HIGHLIGHT", the former Television Service of Oyo State (TSOS); now called the BCOS-TV's record launch etc.
Our respectable friendship, as Abiola called the role model/mentee pact, grew by leaps and bounds, until it got frozen in 1986, when MKO derisorily described my late boss, the Military Governor of old Oyo State, the then Colonel Adetunji Idowu Olurin and his two colleagues in Ogun and old Ondo States, as "Eaglet Governors". I immediately replied, MKO in equal measure.
As I said that issue froze our friendship so much so that I avoided meeting MKO and his family.
But, due to his magnanimity, Basorun Abiola and I reconnected, as it were, at the 25th Anniversary Lecture/Luncheon of the Sketch Press Limited, Ibadan in 1989.
Abiola jolted me, when he publicly said: "Lekan, why are you hiding yourself from me?
You did well as a good professional ought to by your stout reply to my condemnation of the absence of Governor Adetunji Olurin and his two colleagues at my installation as the Aare Ona Kakanfo of Yorubaland by Alaafin Adeyemi."
I was stunned by that statement of Abiola and more stunned when he brought his formal letter of apology to the Military Governor's Office, Agodi, Ibadan.
The secret service and red-tapism unfairly prevented MKO from seeing Governor Olurin on the day his letter of apology was brought by him from Ikeja, Lagos to our office. I was mandated by Governor Olurin to receive Basorun Abiola and his letter of apology.
You can now see why I shelved my head from any insinuation of abusing MKO before and after his demise. May God continue to grant repose to his kind and noble soul. Amen.
*Snr. Chief 'Lekan Alabi, the Maye of Olubadan of Ibadanland writes from Ibadan.