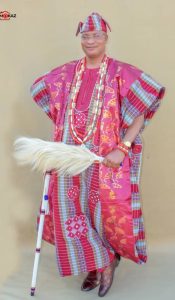 Oba (Rtn) Lukmon Olalekan Adeleke Kuoye (Kofoworade Oyesokun V), the Olu of Imasayi-Yewa, Ogun State, on Saturday, November 19, 2021, ascended the stool of his forefathers. And to mark the anniversary, the first class monarch in ogun state had a press parley with see journalists in Ogun State. In this interview with AbuSatar Hamed, Publisher/Editor-in-Chief. StarTrend Int'l magazine and online – www.startrendinternational.com Oba Kuoye opens up on his 365days in the palace. Excerpts!
Kabiesi, in the last one year you have ascended the stool of your forefathers as the Olu of Imasayi-Yewa, how has the journey been?
Leading people of diverse background is not an easy task, but I thank God for the Grace to be able to paddling the canoe successfully. The journey is not all that easy, but it has been to the glory of God that is guiding and protecting me, my family, chiefs and the entire people of Imasayi-Yewa. When I assumed the throne as Olu of Imasayi-Yewa, there were 8 Teachers only in both Primary and Secondary schools in Imasayi, but with the glory of God and support of the Permanent Secretary of the Ministry of Education, we now have more teachers in addition to NYSC Corpers.
During the period in review, I have been able to facilitate boreholes to Ayegbami and if not for the Engineer that has not been forthcoming, my plan was to commission more two boreholes during the coronation anniversary. To the glory of God, I have changed the face of the Palace from the old version to modern one.
Also, the two crisis I inherited, that nearly claim lives in Otigbo area of Imasayi have been resolved amicably. I invited the aggrieved people, offered advise to them and at the end of the day, we were abled to resolved the imbroglio. So far, in terms of maintaining peaceful co-existence, God has been with us in Imasayi-Yewa.
Kabiesi, what should your people be expecting from you In the next 365 days?
In the last 365 days, God and with the support of sons and daughters of Imasayi, we have been able to come this far. Next year, by the grace of God, we are going to remain focus on improving on our primary and secondary schools, interms of complimenting the efforts of our amiable Governor Dapo Abiodun of Ogun State, at employing more teachers and getting more of Yellow Roofed Classrooms.
God"s willing, by next year, Imasayi will get a befitting ultral-modern Palace that they can all be proud of. Also, my people should be expecting the completion of some of the social projects we have embarked on. Most importantly, as I have promised to bring good numbers of investors to Imasayi, next year, my people will continue welcoming them.
Now that political campaign is on, and election nearer, what does kabiesi like to tell Nigerians?
My prayer is that we are expecting a free and fair election. I am imploring our people to shun violence, not to be part of election manipulations, and vote their conscience. As one of the First Class monarch in Ogun State, we are yearning for a governor from Ogun West, but not now.
You know I come from that Constituency. My Party before I became a traditional ruler was defeated in 2012 and this prompted my decision to secure employment at NIMC using my Masters degree in 2013; basically to distinguished myself from jobless politicians.
Fortunately, my Principal offered me a place at Krista Laurel, but I wanted to experience the civil service.
I want to repeat that we want the next Governor to come from Yewaland, but not now, and I am proud to say this.
Why do you insist on the second term for Governor Dapo Abiodun?
It's because the Prince Dapo Abiodun led administration in Ogun State has performed creditably well. Everywhere you go in Ogun State, you will see Yellow roofs; maternity centres, fire stations, renovated/new primary and secondary schools classrooms.
The government's Housing schemes are also of Yellow Roofs. I am very sure, Prince Dapo Abiodun has performed, creditably, in terms of giving the people of the state dividends of democracy; hence he deserved a second term in office.
Recently, there have been destructive cases of flooding across the country to which President Muhammadu Buhari said he has made provision for the prevention of flooding, as a member of the Traditional Rulers in Ogun State, what are you doing to prevent flooding in your domain?
Infact, here in Imasayi, many houses have been hits by erosion. We are experiencing the worst of it. The first assignment I handled when I was the Vice Chairman of Ado-Odo/Ota Local Government was the flooding at Sango/Igbala area of the LG. I discovered that some of our people have built their houses on the drainage areas where erosion would have been channeled to flow easily, and you know, whatever the height of any blockages, water will always find its way.
Number one thing is that I would like to advise our people is to be cautious of the way they dump refuse and not in our gullies. They should stop dumping refuse into the drainages. You can imagine, at the front of my Palace, you will see a drainage, but whenever it rains, my people will not think twice before dumping heaps of refuse into the gutter and at the end of the day, by the time it gets to the covert there, it stops, the drainage would be blocked, water would flood the roads, and erosion would not care to go through any structure.
We Nigerians are the cause of erosion and flooding that threatens us. And until we are determined to follow government guidelines about building houses or structures, freeing water channels, flooding may continue to destroy life and property.
During one of my trips to Ikole-Ekiti, I met with the Director General of NEMA, and I quickly used the opportunity to presented the erosion challenges facing my people, and the man promised to come to our aid. I have to begin to look for solutions in earnest because here in Yewaland, Imasayi precisely, we can't afford to experience the type of ordeals facing them in Lokoja, Kogi State.
Meanwhile, by the time we, the Yewa Traditional Rulers, would meet during our 2023 January Retreat, Erosion and Flooding Control is going to be one of the issues we will deliberate upon.
What would you say to the institution of Obaship in Nigeria?
It's fantastic, but let me use this opportunity to appeal to any community that is planning to install a new monarch to be careful in the idea of choosing someone who stays in overseas countries. Most of these people do not know the terrain and the main challenges facing their people. Their approach to issues on most occasions appears foreign.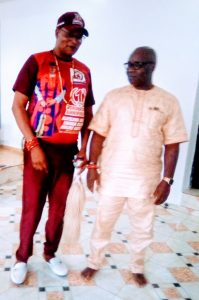 We have a monarch who spends three months with his people and nine months of the year in overseas country. How effective do you think such monarch would administer the community?
Kabiesi, in view of the rising cases of kidnapping in Yewaland, what plans has the Traditional Council put in place to end the insecurity in the region?
We are collaborating to fight the ugly incidents. From Imeko to Ado-Odo, up to Ìgbẹsà, we have been united in protecting our people. We have requested for Amotekun Squad to assist the existing security architecture in the area. I want to assure you that the Olu of Ilaro and Paramount Ruler of Yewaland, Oba (Dr) Kehinde Gbadewole Olugbenle MFR, has been proactive in seeing that peace and security reign in Yewaland.
Thank you kabiesi for taken much of your time.
Thank you also for your love for Imasayi-Yewa, my humble self and people of the ancient town of Imasayi-Yewa. You're most welcome sir