ILARO-YEWA – Elder Timothy Agboola Dada, the retired senior staff of Federal Polytechnic, Ilaro-Yewa, Ogun State, who recently joined the Senior Citizens when he marked his 70th birthday anniversary, in this interview with Musa Adekunle of StarTrend Int'l magazine, opened up on his journey to the age of 70 and other sundry issues. Enjoy!
Could you please tell us a little about your early life?
I went to Saint John Anglican Primary School in Ajilete-Yewa from 1961 to 1966, and in 1970, I proceeded to Olubuse Memorial High School, Ile-Ife from 1970 to 1974. After my secondary school I started work at Saint Mathias Boys Morning School, Lafiaji, Lagos, and after a brief stint, I joined Federal Savings Bank, Lagos in 1976. In that same 1976, I joined Ministry of Trade Industry and Cooperatives in Abeokuta, from there I was sent to Federal Corporative College, Enugu.
After that, I came back to the Ministry of Trade Industry and Cooperatives in Abeokuta to continue my work there. when it was 1980, I started working with the Federal Department of Agricultural and Cooperative after which I went to Kaduna Polytechnic for my ND programme to study Cooperative Studies from 1980 to 1982 after that I came back to my employers, I was transferred to Calabar where I served from 1981 to 1982, from there they transferred me to Kaduna again that was 1982 to 1984. In January, I was also transferred to Jos, I was there till 1985 after that I decided to come back to Ilaro although during the time, I have got married in 1979.
Were you born with the silver spoon or life was tough growing up?
Although, my father was very rich, when you get to our compound, we were the only family living in a five storied building. My father was very fortunate, He bought Moris Minor car, so by the time we were born, the money was not like before because, they didn't plan it.  Had a lot of farms. So, during that time, it was up and down. After my primary school in 1966, I waited for two years before I started secondary education in 1970. My brother, the same father but not same mother because my mother was the number four in line of wives. My father had six wives and my mother got married in 1937. My father died May 1979 then my mother died 2009, thirty years after my father had died.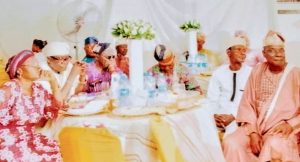 How was life with you when your father died?
By that time, I was with the Ministry of Cooperatives, so my salary was going I didn't have so much problem.
Did you face any problem then being born into a polygamous family?
During our own time, hardly could you know that this is another mother's son or daughter because if we want to eat, we used to eat together on a round table, if you are slow in eating you won't be satisfied. There was one of my brothers who had tactics of eating faster than us then but we didn't understand it, we used to beat ourselves if any one tries to cheat the other.
After your ND Programme at Kaduna, what came after that?
I served with the people who sponsored my education from 1980 to 1985 then I realized that these people didn't allow me to enjoy my wife. During 1980 to 1985, my woman was in Ilaro, but I was coming to Ilaro from Jos, Kaduna, Calabar. Later I decided to resign in June, 1985. I applied to work with the Federal Polytechnic, Ilaro. So, In November 13, 1985, I was employed as HEO Audit, Dr T. A. Ogunbadejo, the first Rector of Federal Polytechnic, Ilaro. I served Ogunbadejo, Makanjuola, Oloyo and Aluko. I worked under Aluko for just two months
Tell us about your experience with the second Rector of the Federal Polytechnic, Ilaro?
The second Rector, Olagbegi, He knows the importance of auditors, then he used to say CIA please go and do these. There was a time he sent us to Owo in Ondo State to audit an account, when we were through with it and came out with solution, Olateru Olagbegi was very happy. Every year then he used to organize party for us, the juniors own was different from that of the seniors and audits work is to prevent and detect fraud.
What made you to have interest in auditing?
I did many which are very in line with auditing, When I applied to Federal Polytechnic, Ilaro, I applied as HEO Audit and they employed me with my experience in other areas.
How many years did you use in the Polytechnic?
I spent twenty-nine years in the polytechnic before I resigned my appointment in December, 2014 as Principal Executive Officer 1 (Audit).
What were the challenges you encountered at the Federal Polytechnic, Ilaro working as an Auditor?
There is nothing that is hard to cope with provided you didn't make the work difficult for yourself. This life is easy. Whenever, we come across such challenges, we call the attention of the Head of Unit concernand he will make corrections, and sometimes call attention of the Rector, and whatever Auditor writes is the final.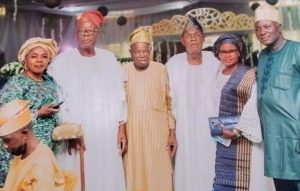 How was your relationship with your family when you were still in office?
My relationship with my family was 100 percent. My children love me and my wife (their mother) very much. Whatever they asked for, we used to give them. We used to take them around the town to have fun.
How can you describe your way of life?
Initially, it was very rough, I like partying, going to the clubhouse that I belongs to recreate with my friends. I love juju music very well, whenever King Sunny Ade was coming to perform wherever I am, I never miss it. But Ebenezer Obey remains my favourite artiste followed by Sunny. Besides I thank God for His mercies over me and my family.
How did you train your children?
To God be the glory. God helped us to invest in the education of our children. Our first daughter went to the Federal Polytechnic, Ilaro where she did her ND in Accountancy, then proceeded to OOU for her first degree. Our second born went to the Federal Polytechnic, Ilaro, my third born didn't go to the Polytechnic, but University while our last born did Sociology in LASU. All of them are married and blessed with children. Hallelujah!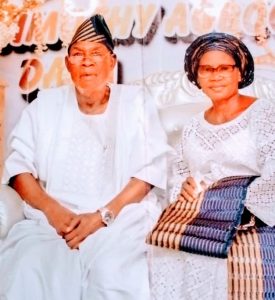 As you are now 70, how do you live your life?
When I wake up in the morning, I pray to Almighty God for keeping us alive, after that I drink water, my wife will cook, eat, after that I will take my drugs. The road to old age was very rough, but I really enjoyed my youthful age.
Who is Elder Timothy Agboola Dada?
Elder Timothy Agboola Dada is a retired senior staff of the Federal Polytechnic, Ilaro. I'm a devout Christian, God-fearing, happily married and blessed with lovely children.
Thank you for giving us the audience.
You're always welcome. Your Publisher –  Otunba AbuSatar Idowu Hamed, the Otun Baaroyin of Ilaro-Yewa, Ogun State, is a lovely man that I and my wife have respect for. He's an intelligent man, kind and God-fearing. His magazine – StarTrend Int'l is our favorite. Our regards to our dear Elhadj. Thank you.