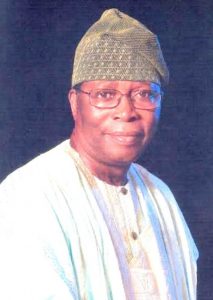 …Oba Olugbenle Charges Yewa Politicians To Eschew Bitterness To Achieve Common Goal
By AbuSatar Hamed & Raymond Osho
ILARO-YEWA – The Ogun State Governor, Prince Dapo Abiodun has described death of Brigadier-General Adetunji Idowu Olurin (rtd), mni, MFR, FSS, MSS, PSC, MNI, MFR, CON, KCHOAR (Liberia), as a great loss, not only to his family, but to the entire people of the State and Nigeria as whole.
Abiodun who was represented by the Ogun State Commissioner for Budget and Planning, Hon. Olaolu Olabimtan stated this on Saturday, September 18, 2021 at the Service of Songs & Tributes put together by the Olu of Ilaro & Paramount Ruler of Yewaland, Oba (Dr.) Kehinde Gbadewole Olugbenle and the Yewa People Development Council (YPDC), an umbrella body of Yewa Clubs and Associations, in honour of the late gallant soldier.
The Ogun State Governor described the former Military Governor of old Oyo State and Administrator of Ekiti State, as a well-decorated officer who had contributed immensely to the development, not only Nigeria, but other African states.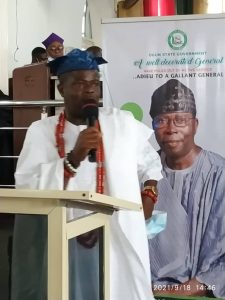 His words, "the late Gen. Olurin may not have attained the office as a Civilian Governor, which he contested for, but his dignified conduct, spirit of sportsmanship and passion for service, are worthy of emulations.
"Indeed, a well-decorated General has pulled out of active service, but he will be sorely missed."
The Ogun State Governor stated further, "Nonetheless, we are consoled that his indelible footprints will continue to serve as a reminder of his love for our nation and humanity."
In his tribute, the Olu of Ilaro & Paramount Ruler of Yewaland, Oba (Dr.) Kehinde Olugbenle described the late General as a true son of the land who fought tirelessly for the development of Yewaland and Ogun state in general.
Oba Olugbenle disclosed that he broke protocol to attend the special funeral service in honour of the departed illustrious son of the town.
The Paramount Ruler of Yewaland noted that the tributes service would be the first he attended since he ascended the throne, saying that the respect he has for the late Gen. Adetunji Olurin made him to break the protocol, saying, "it was because of my respect for him that I insisted we should honour him and I have even put aside protocol as an Oba to personally attend the programme".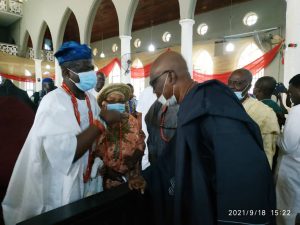 On why the late Gen. Idowu Olurin was to be buried in Lagos and not his place of birth, Oba Olugbenle opined that he was not happy this happened to someone who hails from one of the ruling houses in Ilaro, saying that this decision may be blamed on some politicians from Ilaro who may have injured his sensibilities with their offensive utterances and behaviour over the years.
The first-class monarch noted that the late Brig-Gen. Olurin achieved so much for Yewaland, especially Ilaro which made him and Yewa people proud of his national and international accomplishments and reputation,
Oba Olugbenle however used the occasion to urged politicians from the axis of the state, especially those aspiring for political positions to emulate the good qualities of the late Gen. Olurin, adding, "Yewa elites and politicians should come together as one entity and avoid running one another down in other to be in vintage position on the political space."
His words, "Play politics with decency, enough is enough of mudslinging, disunity and name-calling amongst you politicians in Yewaland. After all, none of you knows tomorrow.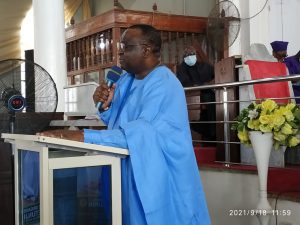 "You are all struggling for 2023 without knowing whether you will even see 2023. Everything is in God's hands, so be decent in politics and come together to achieve the desire goal for Yewaland.
"Up till now, it is the uncooperative attitude of our politicians that has denied us exalted political positions and opportunities in Ogun State, and this has to stop if efforts of our leaders such as the late General Olurin and others who have gone before him will not continue to be in vain", the monarch enthused.
Oba Olugbenle said while he was not against any of the politicians having ambitions for political offices, they should however be ready to make necessary sacrifices in the overall interest of Yewaland and not about personal aggrandizement.
In his own tribute at the event, Senator Tolu Odebiyi, representing Ogun West Senatorial district at the National Assembly described the death of Gen. Olurin as a biter pill to swallow at this time.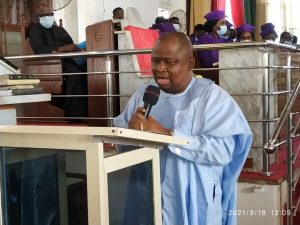 Odebiyi disclosed how his late father – Senator Jonathan Odebiyi was extremely proud of the deceased brilliant performance and achievements, adding he was a dependable, kind and loving Uncle to him and his siblings.
"Uncle Tunji was a dependable, dedicated, dutiful and extra ordinary Army officer with impeccable record of service and he served his nation meritoriously in many capacities.
"He was no doubt a gallant officer and astute administrator who left behind legacy of Excellence. His death is a great loss to the entire Ogun State and Nigeria in general.
"We have lost one of our fitness gentlemen. Our hearts and thoughts and prayers are with his wife – Aunty Kehinde, his children – Babatunde and Olumide, his siblings and the entire Olurin family of Ilaro. May his gentle soul rest in perfect peace", Odebiyi enthused.
The Senator representing Lagos West at the National Assembly, Senator Solomon Olamilekan Adeola, also known as Yayi took time to stated how the late Gen. Olurin imparted his political career through several advises and counsels.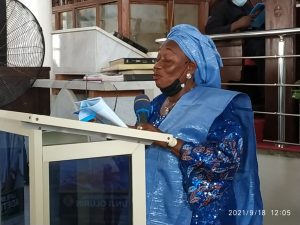 Yayi noted that, through his encounter with General Olurin, he learnt to toe the path of justice and equity in his political life.
"He encouraged me to give back to my source – Yewa. We have lost a rare gem in Yewaland. All his legacies will not be forgotten in our hearts.
Also in his own tribute, Commodore Olawunmi (rtd) recounted how he first met the late Gen. Olurin in Port-Harcourt adding the lovely memory still lingers in his mind.
Olawunmi said that Yewaland, Ogun state and Nigeria had lost an illustrious son, who had positively impacted lives of many people in his lifetimes.
The retired Navy Commodore noted that Brig-Gen. Idowu Olurin, throughout his life time, was a patriotic Nigerian who had sacrificed a lot for the country.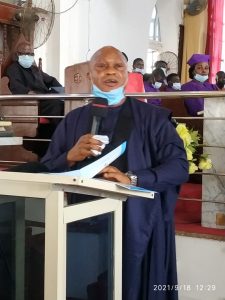 According to the Federal Commissioner, Federal Character Commission, Hon. Abiodun Isiaq Akinlade, "General Olurin was the finest and illustrious son of Yewaland. His death is a big loss to us in Yewaland and Ogun State.
"Through dedication, steadfastness and commitment, Gen. Olurin served the nation in different capacities both within and outside the shore of the country."
Giving his tribute, the President, Ogun State Customary Court of Appeal, Hon. Justice Mobolaji Ojo eulogised the virtues of the late Brig-Gen. Adetunji Olurin for his brilliancy and dedication throughout his service at various departments of his chosen career.
Hon. Justice Ojo also admonished the sagacity of Gen. Olurin in the administrative level during his service as the Military Administrator in the old Oyo State and also Administrator in Ekiti State, "the feat that stands him out from his peers.
"General Olurin was an outstanding achiever, gentleman officer, a prominent son of Ilaro-Yewa and a noble Nigerian. He excelled in his distinguished Military career and was a pride to all of us.
"Our consolation is that our Uncle lived an exemplary life full of monumental achievements, both in Nigeria and abroad. To us, he was a role model."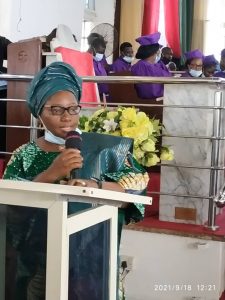 Hon. Justice Mobolaji Ojo however urged Yewa indigenes to always remember their roots from any position they may be, saying, "no matter how executive position anyone might hold, it would cone to an end one day."
Chairman of the Planning Committee of the event, Otunba Akeem Adigun, fondly called Socopao, in his own tribute on behalf of the Yewa City Club noted that for most of the late Gen. Adetunji Olurin's years as a soldier until he retired in 1993, he was entrusted with keeping peace in turbulent climes.
Alhaji Adigun noted that "a good name is better than silver and gold, such is the name of Gen. Adetunji Idowu Olurin, and many can attest that he lived a honest, humble, disciplined and peaceful life."
In his sermon read from the Book of Timothy at the event, the Bishop of Diocese of Yewa Anglican Communion,the Rt. Revd Michael Oluwarohunbi, described life of the late Gen. Olurin as "a complete life well-spent in the worship of the Lord".
Oluwarohunbi urged Christians to remain focus on the task ahead, saying that there were many challenges and hardship, which he said were not unsurmountable for those that truly believed in God.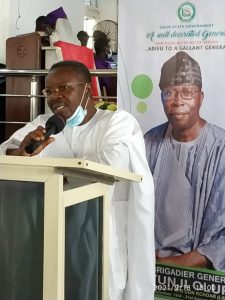 He charged political leaders and elites from Ilaro and Yewaland as a whole to love one another and take over from where the late Gen. Adetunji Olurin had left.
The cleric also urged them to see themselves as soldiers matching on spiritually and physically to build on the legacies left behind by the deceased and others, saying, "Love for one another and love for your people should be the first law binding you together."
Bishop Oluwarohunbi said that Late Olurin had supported the Church of God in its activities and prayed that as he joins the Angels Triumphant, the good Lord would grant his family and all those he left behind the fortitude to bear the irreparable loss.
Professor Anthony Asiwaju and Professor Rahamon Bello also spoke glowingly of the late Gen. Adetunji Idowu Olurin.
The service of songs was one of the activities lined up to celebrate the life and tines of the deceased. A cultural dance and poem reading were offered by the students of the Egbado (Yewa) College, Ilaro the deceased Alma Mata while members of the Egbado College Old Students Association (ECOSA), presented their own tributes on the occasion.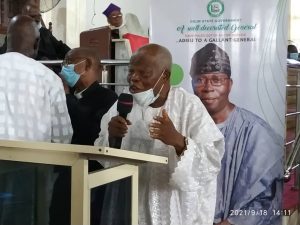 Olurin, who served as a military governor in Oyo State between 1985 and 1988 died at the Lagos University Teaching Hospital (LUTH) on Friday, August 20, 2021 at the age of 76 years.
It would be recalled that Royal fathers, political giants and government functionaries converged on the Cathedral Church of Christ, Ona-Nla Quarters, Ilaro in Yewa South Local Government area of the state to pay their tributes to the late Army General.
The Governor of Ogun State, Prince Dapo Abiodun was represented at the service by the State Commissioner for Budget and Planning, Hon. Olaoluwa Olabimtam while Deputy Governor Noimot Salako-Oyedele was represented by the State Commissioner for Culture and Tourism, Dr Toyin Taiwo.
Other reputable personalities present at the event include; Former Deputy governor of the State, Alhaja Salmot Badru, Hon. Olaifa Jimoh Aremu of Yewa North Federal Constituency, Commissioner for Culture and Tourism, Dr Toyin Taiwo, Chief (Mrs.) Iyabo Apampa, Prof. Asiwaju, Chief Emmanuel Saanu, the Ekerin of Ilaro, Prof. Ramon Bello, Mr. Thomas Akinola, Chief (Mrs.) Bukola Ajibola-Duroiwoju, the Otun Iyalode of Ilaro, members of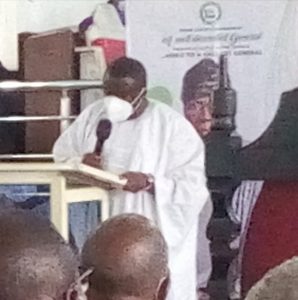 Yewa City Club led by Alhaji Akeem Adigun, Senator Iyabo Anisulowo, Prince Gboyega Nasir Isiaka (GNI), Chief (Engr.) & Chief (Engr.) Mrs. Femi Tetede and Barr. Biyi Otegbeye.
Also in attendance are the Ogun State Commissioner for Housing, Jagunmolu Jamiu Omoniyi, Hon. Chief Mukaila Ajibola, Chairmen of Yewa South, Yewa North, Ipokia and Imeko Afon Local Government Councils, Chief Fatai Olayode, Dr Kunle Salako. Chief Funso Olurin, Ms Yetunde Olurin, members of the Olurin family, AbuSatar Idowu Hamed, Publisher/Editor-in-Chief, StarTrend Int'l magazine, Prof. Tope Popoola, Otunba Wasiu Taiwo of Continental Hotels & Suites, Abeokuta, Dr. Yemi Bamgbose, Prof. Jendele Hungbo, Chief Emmanuel Ogundimu, Pham. M. Lawal, Deji Adeyemi, Mr. Bisi Ogundimu and Chief Leke Ibikunle amongst many others.
It would be recalled that Gen. Olurin (rtd) who was also the former Commander, ECOMOG, died on August 20, 2021 after a brief illness at a Lagos Hospital at the age of 76.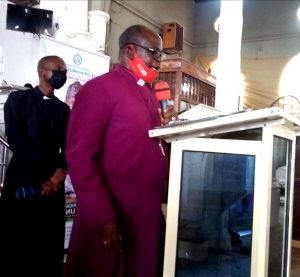 A Service of Songs & Night of Tributes comes up on Thursday, September 23, 2021 at the Officers' Mess, 81 Division, Nigerian Army, 6, Marina Road, Lagos. Starting from 5pm, while the Final Burial Service takes place from 11am on Friday, September 24, 2021 at the Victoria Fellowship Church, Alma Beach Estate, VFC Close, Lekki-Epe Expressway, Lagos.
To round off the celebration of life for the late Gen Adetunji Olurin, according to Mr. Kayode Olurin, Secretary of Olurin Descendants, a Special Thanksgiving Service holds on Sunday, September 26, 2021 at the Cathedral Church of Christ, Ona-Nla, Ilaro. Starting from 10am.