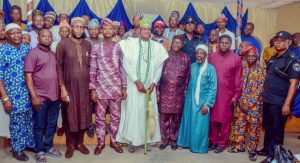 BY ABUSATAR HAMED
IMASAYI-YEWA – The entire people of Imasayi-Yewa in Yewa North of Ogun State have unanimously agreed that the ancient town shall remain the land of peace which shall continue to witness development in all spheres.
This resolution was contained in a communique reached at the end of Imasayi-Yewa Stakeholders' Meeting held on Tuesday, February 21, 2023 at the Imasayi-Yewa Town Hall, Imasayi-Yewa, Ogun State.
According to the organiser of the Stakeholders Meeting, the Olu of Imasayi-Yewa, Oba Lukmon Adeleke Kuoye FCIM, the Kofoworade Oyesokun V, the programme was put together to sentitize people of the community the need to remain peaceful, before, during and after the coming general election in Nigeria.
Titled, "Political Violence In A Developing Community: Stakeholders' Responsibility Towards 2023 General Election", the meeting resolved that;
– Imasayi-Yewa people are an indivisible family and they will continue to see themselves as such.
– All members of the political parties in Imasayi-Yewa shall conduct their political activities in a peaceful manner.
– The Imasayi-Yewa youths shall eschew all forms of violence and they will rather work together for the progress and development of the ancient town of Imasayi-Yewa.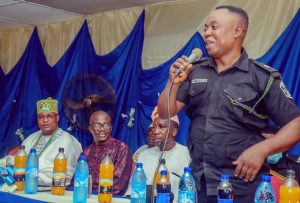 – The forthcoming 2023 general elections shall be conducted throughout Imasayi-Yewaland in an atmosphere of peace and sportsmanship.
– Political thuggery and hooliganism are old and faded fashion of politics which will not be condoned in Imasayi-Yewa and its environs.
– The peace being enjoyed in Imasayi-Yewa and its environs before elections shall be sustained during and after the elections as there is life after the election.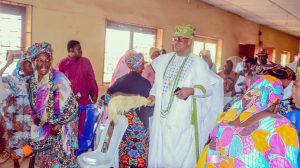 – There shall be no destructions of lives and properties in Imasayi-Yewa before, during and after the elections.
– Any person(s) that decide to involve in any form of political or criminal activities shall be handed over to the law enforcement agencies for prosecution, accordingly.
– The entire attendees unanimously agreed that Imasayi-Yewa shall remain a land of peace, and shall continue to witness development in all spheres.
The forum which was chaired by the convener Oba (Rtn) Kuoye featured presentation of different papers by seasoned resource person.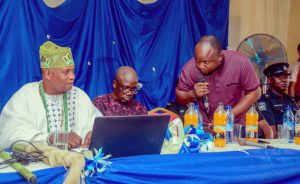 They include Chairman, National Youth Council of Nigeria NYCN), Ogun State Chapter, Comrade AbdulJabar Ayelaagbe; Chairman, Yewa People Development Council, Yewa North Chapter; LOGOCHAP,; Elder Adeogun Isreal and Associate Prof. Oluranti Samuel of Department of Sociology, Faculty of Social Sciences, Lagos State University, Ojo, Lagos.
Others are Mr. Bode Akiode, Community Relations Officer, Dangote Cement Plc, Ibese Plant, Ibese-Yewa; Police Area Commander, Ayetoro-Yewa, who was represented by the DPO, Ayetoro Police Command; DPO, Imasayi-Yewa who was also represented by the DCO, Imasayi-Yewa Police Command; VGN and Local Hunters.
The summit however commended Oba (Rtn) Kuoye for organising such educating programme that excited the intelligence of the attendees with a view to guarantee continued peace, before, during and after the elections.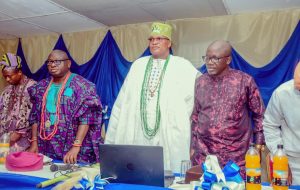 The meeting was attended by critical stakeholders in Imasayi-Yewa and it's environs. They include youths from different base, market men & women, housewives, students of Oluaso High School, Imasayi-Yewa and their teachers, clubs & associations.
Other attendees are artisans, leaders of Christian & Muslim leaders, traditional leaders, Baales & Chiefs and leaders of Political parties (APC, PDP, ADC & LP).