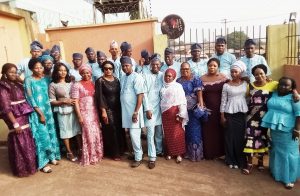 ILARO-YEWA: The Publisher/EIC, StarTrend Int'l magazine & www.startrendinternational.com, Elhadj AbuSatar Idowu Hamed was among dignitaries from all walks of life that graced the 2019 End-of-Year party of Yewa LikeMinds, which took place on Saturday December 28, 2019 at Ashipa House, Iyana-Egbo, Ilaro, headquarters of Ogun West.
One of the Ilaro-based legal luminaries, Barr. Gbeke Laditan delivered a paper titled, "Club Administration For Sustainable Development; The Legal Perspective" at the event.
Yewa LikesMinds, a non-political, non-religious and social-cultural organization, which is being led by Mr. Lekan Ajibogun consists of people of same idea and concept drawn from different professions.