BY ADETOKUNBOFAKEYE & ABU-SATAR HAMED
Members of Yewa Descendants Union, United Kingdom & Ireland held its 2017 Yewa Day Conference UK between October 6t and 8 2017 and the event was graced by sons and daughters of Yewa, Ogun State, Nigeria from within and outside UK.
The theme of the conference which deliberatedextensively on economic and political way forward for Ogun West was Development of Yewaland of our Dream: Thoughts, Expectations and Contributions from the Diaspora" and it was held inside the conference hall of Village Hotel Club, Centennial Park, Centennial Ave. Elstree, Borehamwood, UK.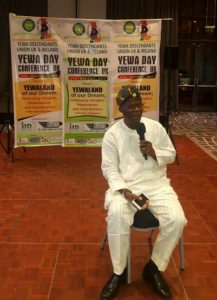 While declaring the meeting open on behalf of the state Governor, Senator Ibikunle Amosun, the Speaker of the Ogun State Houuse of Assembly, Rt. Hon. (Prince) Suraju Ishola Adekunbi, an indigene of Yewa, who is also a governorship aspirant acknowledged the theme of the meeting as apt and viable vehicle to directly address Yewa multi-faceted challenges confronting the people in the area.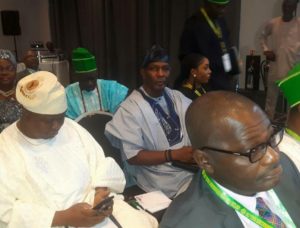 Gov. Amosun called on the Yewa in Diaspora to fast track the transfer of technology, expertise and capital to help drive their vision for Yewaland, develop a workable and implementable blue print for the industrial growth, attract investments through their expensive, but strategic linkages and collaborate and support of the people back home in rendering the deliverables to the people.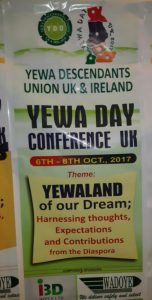 On 2019 struggle, the Hon. Speaker said "As we stand, on the threshold of history together once again, 2019 represents us with another opportunity to have a shot at the gubernatorial shot in Ogun State , a position that has eluded us since the creation of the our dear state.

''The achievement of this dream would help to address the imbalances in the body of polity of Ogun State as a whole. All hands must be on the deck to realize this lofty ambition as its realization will provide us with political wherewithal to implement our goals,'' he posited.

Mayor Rotimi Adebari, a native of Oke-Odan Yewa South of Ogun State and the first black to become a Mayor in Ireland in his paper titled: "Developing a Strategic Frame Work For Sustainable Development Of Yewaland;The Role Of Every Yewa Stakeholders", calls for change of attitude in the community call "Yewa".
"In Yewa, we need to talk to ourselves in the language we will understand. We need to change our attitude, see ourselves as one, talk with one voice, stop working against ourselves and work towards having our own as the next governor of Ogun State.

"For us to achieve our set goals of development in Yewaland, we need political power, without this we can't achieve anything," he said.
According to Mayor Adebari, ''developing Yewa is in the hands of Yewa indigenes. Our traditional rulers need to work together, talk to their subjects on the need to work together, contribute their quota with sincere minds, give what they have for the development of Yewaland,.

''But, if we continue to do it the way we have been doing things we will continue to get the same result. Obas need to tell their subjects enough of playing second fiddles".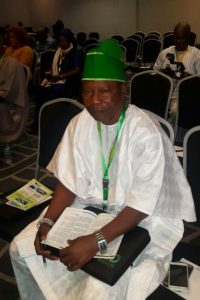 Mayor Adebari added that it is time Yewas tell the world they are not second class citizens, but people that have what others in the state have.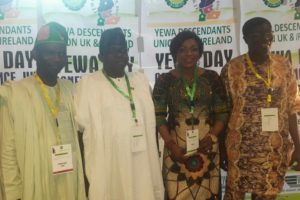 In his presentation titled, "Road Map For The Development Of Yewaland: The Challenges, The Prospects", Prof. Tope Popoola listed, politics of intolerance, bitterness and exclusion as banes of development either economically or politically in Yewaland and called for political tolerance and inclusion in the area.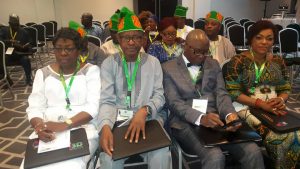 "For an area to develop, the habitants must have equality, sense of belonging, avoid unnecessary rancour and get educated" he said.

Prof. Popoola was also of the opinion that, Yewa need to come together and speak with one voice; "Self centeredness, greediness, nepotism, hatred and lack of political leader has contributed to where Yewa found herself, we can't continue having all these in our midst and see ourselves developing.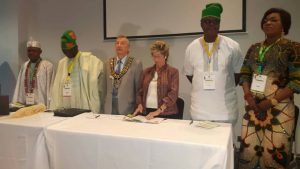 "If people continue to take money from aspirant /candidate and vote against their conscience, there will be no development," he said.
He called on Yewas in the diaspora to return home and impact people with what they have leant either technologically or politically, saying, "Yewaland is blessed and its resources yet to be tapped.
Prince Gboyega Nasir Isiaka, a.k.a. GNI, in his speech told the gathering that it is time for Yewas, both at home and in the diaspora to join hands to achieve the long struggle to have Yewa person as governor of Ogun state.

"We have many investment opportunities in Yewaland, but lack of political power and bad infrastructure has made the area under developed," he noted.

GNI who is one of the governorship aspirants stated further that, if he becomes the governor come 2019, investment drive of the state in holistic way will be his priority.

He submitted further that, minerals resources available in Yewaland and the state as a whole would be tapped and called on all Yewa sons and daughters to wake up this time around and negotiate with other stakeholders in the state, adding, ''because, you don't get what you deserve but, get what you negotiate for".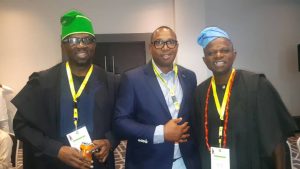 Senator Solomon Olamilekan Adeola, fondly called Yayi who is also an aspirant for the governorship slot in Ogun State told the gathering that, "Yewa is a majority in Ogun state and not the other way round".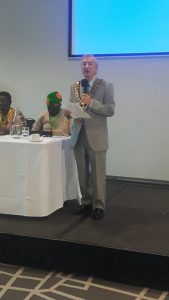 According to him, Yewaland also included the following towns and villages; Imala, Ibara, Ishaga, Ijale among other towns and villages carved away and merged with what now known as Abeokuta North.

Senator Adeola, submitted that if elected, he will partner with Lagos State government to get back all Ogun State dues being paid as tax to Lagos, saying, ''the development of infrastructure which would attract investors to the state will be our priority''.

"My government would provide good roads in all rural areas to attract investors. Without good roads we can't have any meaningful development", he said.

Mr. Layi Fadairo, a legal practitioner in his speech titled:"The Role of Diaspora organisations in the Development processes in Yewaland"said, there should be no Yewa North or Yewa South in the quest for developing Yewaland.

While calling on Yewas in the diaspora to come under one umbrella with unity of purpose, the legal luminary said in the area of technology the Yewas in Diaspora need to communicate effectively directly with those at home, in the development of schools, roads and educational needs.

According to him, ''there is need for a central register of people residing in Yewaland, which will give a time need of their needs.'' This he said will at first put forward the people needs to political and community leaders what the people need from them.
''Yewa in disapora must come together, in sharing knowledge gained from their host communities in the Western world, and share these knowledge with our people back home, and advise on how to implement these knowledge with people on the ground, and how to channel the limited resources available for advancement of Yewaland and not in financial terms only.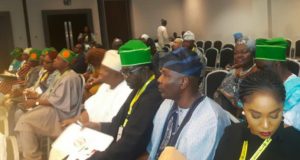 ''The youths should be encouraged to take part in apprenticeship in trade, and provision of services. We need people who are ready, able, and willing to invest in industries in Yewaland and to create employment opportunities for our people.

"There is need to appoint people of proven integrity into office, and to be incharge of the affairs, be it politically, or economically, to achieve the development which the area urgently needed,'' he posited.

Barrister Lawal Orisadare on his own talked on the topic; "Preparing Yewa Youths For Leadership Position: The Expected Role Of Yewa Organisations In Diaspora" and he was of the opinion that, today's youths lack mentoring that could allow them to take over the mantle of leadership.

Orisadare, while cautioning the youths not to engage in confrontation with themselves in a bid to sell their candidates, called on leaders to live up to expectation.

"Many of our leaders are in the habit of not helping the youths to gain employment or further their education despite the fact that, they have the wherewithal to do so. Our leaders should also desist from politics of bitterness and greed", he noted.
Barrister Orisadare added that there should not be division between the youths and the leaders, saying, "It is time for mentoring, especially from our people in the Diaspora, who had acquired various economic and political experience in the advanced nations''.

Earlier in his welcome speech, the President of Yewa Descendants Union, UK and Ireland, Chief Adetunji Ebo, stated that, the conference was organised to engage Yewa sons and daughters in discussion that would proper possible solution, to the nagging problems back home.

Chief Ebo was of the opinion that, as government policies are often criticised and or condemned by the opposition, the citizens and those who think it could be better done. Other ways round. They, in diaspora come to conclusion it is time for all of them to be actively involved, in what is happening back home, not necessarily as politicians or government appointees, but as professional groups which will proper solutions to some aspects of services, about which we complain in our country, particularly in Yewaland.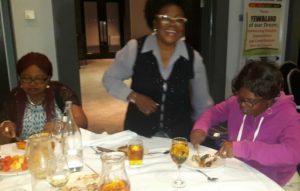 "It is not enough for those of us who are privileged to live in diaspora to continue to moan about the state of developments at home. We can no longer afford to be bench critics, but we need to be proactive in supporting the government and proffer reasonable solutions to government. We need to partner with the government to ensure adequate developmental strides. We have professionals amongst us in healthcare, engineering, accountancy, agriculture etc, it is long overdue, to collectively bring our enormous resources to bear and make a difference back home,'' he submitted.
YDU President further said "there can be no political empowerment without economic empowerment. The reason therefore for us all to identify what economic activity or activities we can engage in bank home, that will empower our people, particularly the youths, in terms of job opportunities. All YDU groups UK and Ireland, as well as USA and Canada can engage with YDU in Nigeria and work collaboratively to look at ways where our eco-system can be profitably exploited for the benefit of our people.''

The Olu Ilaro & Paramount Ruler of Yewaland, HRM, Oba Kehinde Gbadewole Olugbenle, MFR, who was ably represented by Oba Lukman Jayeola Agunbiade, the Alagbara of Agbara in his message on behalf of royal fathers, sons and daughters of Yewaland, calls on all sons and daughters of Yewa to support Yewa 2019 project with their resources without any sentiment attached.

He further appreciated the commitment, determination and the unfliching support of Governor, Ibikunle Amosun, former President of Nigeria, Chief Olusegun Obasanjo, Chief Olusegun Osoba, former governor Ogun State and many leaders of conscience across the state for their unwavering solidarity and support towards the emergence of Ogun West person occupying the office of Governor of Ogun State in 2019.

Oba Olugbenle also used the occasion to appeal to the people of Ogun Central and Ogun East to support Ogun West for Governor 2019 project in the sprit of equity love, unity, fairness and justice. "I respect your right to contest for the office of Governor in 2019" he said, adding, "…for everything under the sun, there is a time. It is my belief that the time for God Almighty to reward you for your past support for Ogun West is 2019 and nothing by God's grace will settle it. Amen,"

At the end of the conference communiqué on the event was agreed as follows: that all hands must be on deck to see a Yewa person become the governor of Ogun State come 2019; that, aspirants must come together and negotiate among themselves where they are many; that, we should avoid being used by outsiders; that we should avoid sentiment in our struggle to get the governorship ticket for our senatorial district; that people in diaspora must be involved in our current struggle with all they have without any sentiment and That we must put our best foot forward.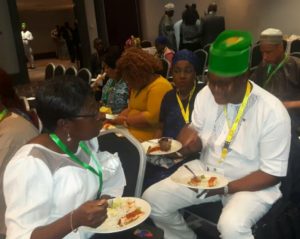 Others are: that our traditional rulers must be involved through their fatherly role and get across to other Obas in Ogun East and Ogun central to support our aspiration; that we need to get across to opinion leaders in other senatorial district and seek for their support; that we should avoid aggressiveness but be persuasive in our aspiration; that our youths should avoid confrontation with each others in their campaign; that all should have it in mind the need to support any Yewa person that emerges as a flag bearer of his party; that politician should play the game according to the rules. It should not be a do or die affair and that proposal for Yewa development would be forwarded to Yewa traditional council.

Among dignitaries at the occasion are: The Mayor of Elstree and Borehamood, Rotarian Eric Silver; Professor Rahman Bello, VC, University of Lagos;Otunba Akeem Adigun (SOCOPAO); Oba Mukaila Salako, the Adokun of Igan-Okoto; Oba Lukman Jayeola Agunbiade, the Alagbara of Agbara and Mr Lekan Asuni,Chairman, Ilaro Development Council;

Others include Hon. Abayomi Tella, fomer Chairman, Ado-Odo/Ota Local government; Hon. Tunji Akinosi, fomer Commissioner in Ogun State, Chief Kayode Odunaro;Chief Jide Odetola; Barr. Olaoluwa Folalu; Alhaja Iyabo Raji; Otunba Tunde Olaotan and all members of Yewa Descendants Union, UK & Ireland.