ABEOKUTA – Hon. (Chief) Adegoke Adeyanju, fondly called Awoso is the Sobaloju of Igbogila, Afopatotemole of Yewaland, and the Honourable representing Isokan State Constituency, Yewa North I at the Ogun State House of Assembly. In this recent interview with AbuSatar Hamed explained his mission in politics and other sundry issue. Enjoy!
You were known as an outspoken young man, what really prompted you to involve in politics?
Since my days in the University, I have been part of the School Union Government; I was the Chief Whip of Olabisi Onabanjo University SUG. In my department, I was the President of BioChemistry students. I decided to join politics because I observed that most politicians don't have the best interest of the general public at heart. And I think if we want it good, we must participate to be able to correct the anomalies. So, four years ago, I moved in. I have been active as APC Organizing Secretary,  Yewa North LG before I decamped to ADC. But now I have returned to APC since my leader, Prince Nasir Gboyega Isiaka had also become APC member.
So, are you saying, you are supporting the incumbent governor to go for the second term which ends in 2027?
Yes, so that he can handover to us in Yewa in 2027 by Gods grace.
For the past two years, what is your observation about Dapo Abiodun led government, and how would you describe the system?
The Governor is trying. Within the two years of his administration, he has touched many aspects of societal needs; Agriculture, Education, Health. He has renovated nearly all Primary Health Centres, as well as classrooms, both in the Primary Schools and Secondary Schools across all the local government areas. He had done very well.
Meaning that Yewa people should wait for another four years?
I think if we can support him, as he has promised, Gods wiling, we shall get it right, coupled with the fact that it is not easy to unseat the incumbent governor. Meanwhile, he has performed; he has rehabilitated two roads in Ota, rehabilitated the General Hospital in Ilaro. In my own town, Igbogila, an uncompleted building under the last administration has been completed. Work is ongoing on Imasayi-Ayetoro road.
How did you come about your style which is very unique?
A lot of people think I am a cultist from the way I dress. But I can tell you, I just choose it as my own signature because even before I joined politics, I have been wearing white clothe. In about six years ago, I slept and by the time I woke up, I drew this shape and took it to a designer to sew a cap of the shape for me. After many trials, he got it. It's about been unique and different. I do tell who cares to listen that one person doesn't form a cult. I wanted to stand out; Asiwaju Tinubu has his signature as well as late Pa Obafemi Awolowo.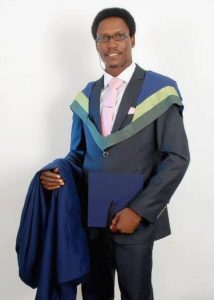 After this term, are you aspiring to go for second term?
Presently, I am focusing on how to make my people enjoy the true dividend of democracy. I have been given four years. I need to proof that I have used it well for the people's advantage, then we can talk about another term.
In the future, what is your aspiration?
I have been saying it that someday; I will rule Ogun State as Governor.
What is your advice to Yewa youths?
We should unite in supporting Governor Dapo Abiodun to lead us well. And when it comes to our turn, we should not allow external forces to use divide and rule tactics to disorganize us. We should come out as one entity to achieve our aim.