By AbuSatar Hamed
ILARO-YEWA – The Olu of Ilaro & Paramount Ruler of Yewaland, Oba Kehinde Gbadewole Olugbenle has called on Yewa indigenes not to lose hope in the possibility of a Yewa person becoming the Governor of Ogun State.
The first class monarch in Ogun State made this plea on Monday, May 10, 2021 at the 4th Yewa Muslim Community Ramadan Lecture/Iftar organised by the royal father.
Oba Olugbenle who was reacting to a prayer offered by Sheik (Imam) Iskilu Lawal, aka Sugar, the Wakilu of Muslims in Yorubaland, Edo & Delta that whatever generational curses placed on the forefathers of Egbado, now Yewaland, should be removed by God from the land in the spirit of Ramadan period.
Kabiyesi said, everything in life was determined by God who knew when and how He blessed His loved ones, saying, Yewa's time to be the Governor of Ogun State shall come at God's appropriate time.
He advised the people of Yewaland not to despair, but to continue praying to God to fulfill His promise on Yewaland, adding that "by God's time all those working against the realisation of Yewa person as Governor of Ogun State shall be rendered powerless and incapacitated.
The Asade Agunloye IV opined that" it was sad to note that since over four decades, Yewa that is considered the third leg of the state is still being denied right to the exalted position and some people don't have the heart of gold to correct the anomalies, stressing that "the spirit of this year Ramadan fasting and that of the past and many to come shall rise up and grant our land, the right to the exalted position, not only in Ogun State, but Nigeria and world at large."
On the rising insecurity in the country, Kabiyesi advised the people of Yewaland not to take law into their hands, but always report any suspicious person or movement to law enforcement agencies.
Kabiyesi who has been sponsoring the Royal Ramadan Lecture/Iftar in the last four years, commended the Muslim faithful in Yewaland for their steadfast and continued prayers for peace and tranquility in the land, advised them not to stop, but continue to pray for peace in Yewaland, Ogun State and Nigeria as whole.
He thanked his fellow kabiyesis for honouring his invitation, and all the Muslim faithful that graced the occasion, including both his staff and others that were involved in the planning and execution of the successful programme.
In his opening prayer, the Wakilu of Muslims of Yorubaland, Edo & Delta States, Sheik (Imam) Iskilu Lawal lamented that it's unbelievable that a prominent part of Ogun State is being denied the right to the exalted position of Governor of Ogun State since over four decades after creation.
Fondly called Sugar by his admirers, the Islamic leader prayed God to remove whatever curse that was hindering the progress of Yewaland.
He called on the Imams and Alfas in Yewaland to enter into marathon Dua (prayers) for the emergence of a Yewa person as the Governor of Ogun state.
Wakilu Musulumi eulogised Oba Olugbenle for his style of rulership that endeared him to many people, saying that the people of Yewaland should continue to give their unflinching support to the Paramount Ruler.
While delivering the lecture titled: "Insecurity In the Land", Alhaji Sulaimon Ogunkanmi from Ahmadiyya Mosque, Ilaro was of the opinion that the issue of insecurity remained a global phenomenon that required the attention of all governments and the people.
Alhaji Ogunkanmi said that it was sad to note that many innocent lives had been wasted by the evil-hearted people in our midst.
The Islamic cleric noted that in spite of many Mosques and Churches in Nigeria, including seasoned clerics, the perpetrators of the evil acts could be Muslims or Christians.
He commended the security apparatus in the country for their concerted efforts to reduce crime, but lamented that some bad eggs were still bent on making life difficult for the society.
Alhaji Ogunkanmi praised the leadership quality of Oba Olugbenle and his quest for egalitarian society, saying, the reign of the monarch had brought peace and tranquility to Yewaland and beyond.
He however urged Muslim faithful to continue to pray for the country, saying, "The peace of the land is the peace of the people."
In his solidarity message at the even, the celebrated Nollywood actor, Alhaji Hassan Taiwo, fondly called Ogogo commended Oba Olugbenle for his giant strides in the affairs of Yewaland, saying, kabiyesi is indeed a blessing, not only to Ilaro or Yewaland, but Ogun State and Nigeria at large.
Ogogo also eulogised the Chief Imam of Ilaro Central Mosque and its environs for his humility and concerted efforts in the administration of Islamic society within and outside Ilaro.
He also used the occasion to thank those that supported him during his quiz programme that took place at Ilaro, on Sunday, May 9, 2021, where many Muslim faithful won various prizes for their knowledge in Islamic studies.
The Yoruba movie superstar disclosed that the programme was his own little way of promoting Islam and also educating and informing the Muslim faithful in the way of Islam.
He stated further that by next year, the programme would also feature Christian quiz where Christians would ask questions from fellow Christians, with a view at promoting religious tolerance among our youths.
Ogogo thanked his fans, Imams and Alfas, all over the world for their supports that keeps him going, saying they should not relent in their prayers for him, adding he would not disappoint them.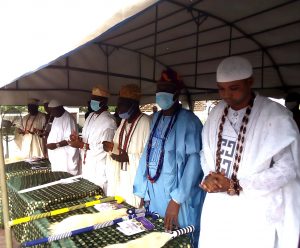 In his vote of thanks, on behalf of the Olu-in-Council, the Ekerin of Ilaro, Chief Adeboye Sanu thanked God for his mercies over Oba Olugbenle and his family, including all kabiyesis within and outside Yewaland.
Chief Sanu commended the peaceful coexistence between Christians and the Muslims in Yewaland, praying that the fellowship should continued in the interest of the society.
He also praised the concerted effort of the Chief Imam of Ilaro Central Mosque, Imam Tajudeen Mustapha-Adewunmi, who he described as a bridge builder and nondiscriminating Islamic scholar, saying people should emulate his virtues.
The programme also featured special prayers for President Muhammadu Buhari and his cabinet, members of the National Assembly, Governor Dapo Abiodun of Ogun State, Oba Kehinde Olugbenle and other Royal fathers within and outside Yewaland as well as the entire people of Yewaland.
Dignitaries that graced the event included Oba Mojeed Rufai, Olowo of Owoland; Oba Maroof Awode, Ololo of Ijofinland; Oba Mukaila Salako, Adokun of Igan Okotoland; Oba Buhari Makinde, Oniwoye of Iwoyeland; Oba Kareem Aderibigbe, Alale of Ajileteland; Oba B.B. Oyero, Onijale of Ijale Ketuland and Oba Saliu Ajibade, Olobi of Ilobiland.
Others are Chief Adeboye Sanu, Ekerin of Ilaro; Chief Tajudeen Akinbami, Ekarun of Ilaro; Chief Adenitumo Odunewu, Ekefa of Ilaro; Chief Mrs. Afusat Odunfa, Iyalode of Ilaro; Chief (Mrs.) Bukola Ajibola-Durowoju, Otun Iyalode; Chief (Mrs.) Risikat Idowu, Iyaloja of Ilaro; Chief Adeboye Fagbohun, Baale of Fagbohun and Chief Samuel Alimi, Babaloja of Ilaro.
Also at the event are Alhaji (Prince) Isa Olusoji, Head of Asade Agunloye Ruling House; Alhaji Taiwo Hazzan (Ogogo); Pharmacist M.A. Lawal; Mr. Adedeji Ogunleye (Okado-Ellysam); Alhaji Idris Babatunde Allison; Chief Sebil Hamed, Chairman, Ansar-Ud-Deen Society of Nigeria (Ilaro Branch); Alhaji Oladejo, Ejio of Ilaro; Chief Shafarudeen Popoola, Chairman, PCRC & CDC, Ilaro District; Alhaji Muhammed Suleiman, Chairman/CEO, SoSmart; Elhadj Lamidi Elegbede (Emperor); Mr. Tajudeen Bankole; Alhaji Sakibu Raji, Secretary, Ansar-Ud-Deen Society of Nigeria (Ilaro Branch); members of Park & Garages (Ilaro Branch) and Elhadj AbuSatar Idowu Hamed, Publisher/Editir-in-Chief, StarTrend Ibt'l & GatewayStar magazines & online – www.startrendinternational.com among a host of others.