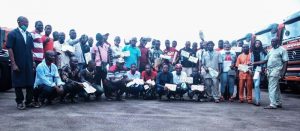 LAGOS: In its bid to encourage and enhance easy distribution of cement to consumers nationwide, the Management of Dangote Cement Plc has presented 82 brand new trucks to its distributors
According to a statement from the company, the gesture was to further help distributors service their customers efficiently and profitably.
The event which was held at the Enugu Assembly Plant started with training by Shacman Nigeria where drivers, Supervisors and Managers of the distributor companies were in attendance.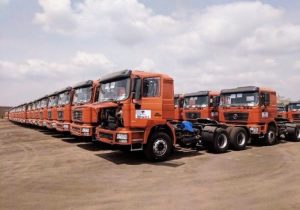 The training, according to the statement focused more on the drivers to help them to be more aware of their trucks and help to reduce carnages on Nigerian roads. This was in addition to exposing them to proper handling and maintenance of the vehicles.
Reacting to the gesture, one of the distributors, Mr. Gilbert Igweka, appreciated Dangote Group and congratulated other distributors who were present at the event.
Dangote Group is the biggest customer of Shacman brand in Nigeria since it first bought over 1,500 units about five years ago. Dangote also ordered 350 of the trucks assembled by TSS at ANAMMCO plant in Nigeria and delivered to the Dangote Oil Refinery in Lagos.