ABEOKUTA, JUNE, 4, 2020: Considering the importance of communities in the dissemination of information leading to intelligence gathering for security agencies in Ogun State, His Excellency, Prince (Dr) Dapo Abiodun (MFR), inaugurated the State Community Policing and Advisory Committee (SCPAC) Thursday, June 4, 2020 at the Oba's Complex, Governor's Office, Oke-Mosan, Abeokuta.
According to a press release e-signed by and made available to StarTrend Int'l magazine & www.startrendinternational.com by Dyke Ogbonnaya, State Public Relations Executive, for: The State Commandant, the inauguration was also first of its kind involving all security agencies in the State with the State Commissioner of Police, Mr. Kenneth Ebrimson and the
Awujale and Paramount Ruler of Ijebuland as co-chair to the committee.
The State Commandant, Nigeria Security and Civil Defence Corps, Ogun State Command Headquarters, Abeokuta, Alhaji Hammed Abodunrin, was also on ground to grace the occasion.
Aside from the roll calls of all service commanders who were duly represented, we also had the likes of the Assistant Inspector General of Police in-charge of training, Force Headquarters, Abuja representing the Inspector General of Police, Mr. Abubakar Mohammed; the Assistant Inspector General, Zone 2, Mr. Ahmed Iliyasu, among other egg heads.
His words, "Like I reiterated earlier, the State Community Policing and Advisory Committee is to regularly regulate the activities and affairs of the Police Community Relations Committee (PCRC) in the State.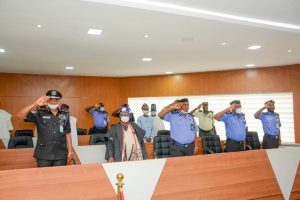 "More so, the PCRC had been a rallying and supportive aspect of security in the State going by its innumerable intelligence gathering which had led to several arrests of criminals in the State.
"This is one of the best security convergence and gathering in recent times aimed at nipping crimes and illegality in the bud in and across the State with the rising spate of crime hovering around all parts of the country in recent times."